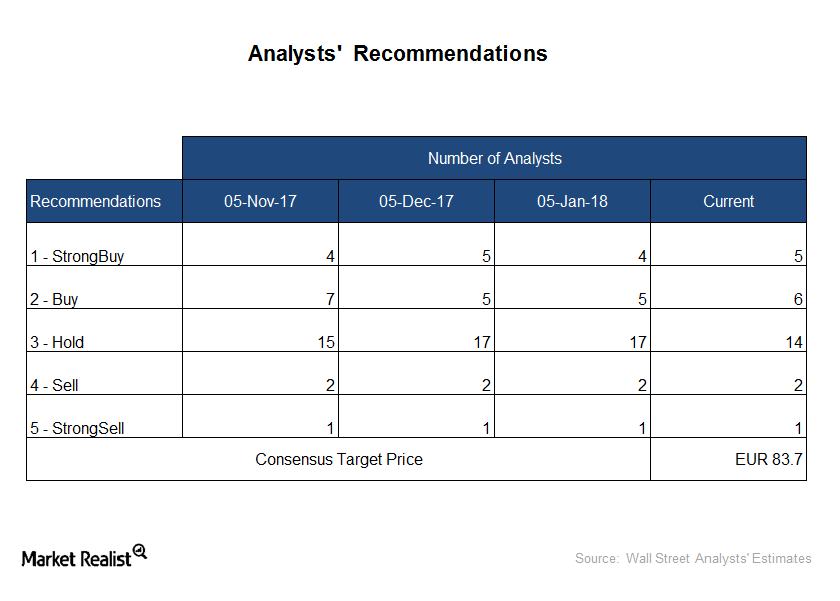 Analysts' Updates after Sanofi's Bioverativ Announcement
Analysts' latest recommendations for Sanofi
Sanofi (SNY) announced its acquisitions of Bioverativ and Ablynx in the last week of January 2018. The Bioverativ acquisition is valued at more than $11.6 billion, while the Ablynx acquisition is worth 3.9 billion euros.
In this article, we'll have a look at Wall Street's recommendations and target prices following Sanofi's Bioverativ acquisition announcement. We'll also explore analysts' latest consensus target prices and ratings for Sanofi.
Article continues below advertisement
As of February 5, 2018, according to the latest Reuters survey, one out of three analysts tracking Sanofi ADRs (American depositary receipts) have recommended Sanofi as a "buy," while two have recommended "holds." A total of 28 analysts are tracking Sanofi stock on the Euronext Paris exchange. Of these 28 analysts, ~39% have recommended "buys" on the stock, while 50% have recommended "holds." The remaining 11% of analysts have called Sanofi stock a "sell."
As of February 5, analysts' consensus 12-month target price for Sanofi ADRs is $50.5, which implies a ~16.8% return potential over the next 12 months. Sanofi ADRs' closing price on February 2 was $43.2 per share. On Euronext Paris, the stock's 12-month target price stands at 83.7 euros, representing a return potential of ~20.6%.
Article continues below advertisement
Recommendation updates following the Bioverativ acquisition
Following Sanofi's announcement of its Bioverativ acquisition on January 22, 2018, a number of investment analysts updated their recommendations and target prices on Sanofi. Moody's affirmed its A1 rating on the stock following the announcement.
On January 23, 2018, Barclays reduced Sanofi from an "equal weight" to an "underweight" rating and reduced its target price on the stock from 75 euros to 65 euros (or $80.25). The Oddo-BHF in Paris raised its recommendation on Sanofi stock from a "neutral" to a "buy" while raising its target price from 78 euros to 88 euros. On the same day, Kepler Cheuvreux restated its "buy" rating on the stock with a target price of 86 euros. However, the analyst expressed concern regarding the Bioverativ-Sanofi deal, stating that it raised a host of questions.
Peer comparisons
As of February 5, 2018, Peers Novo Nordisk (NVO), Roche Holding (RHHBY), and Bayer (BAYZF) have average analyst target prices of $60.4, $36, and $222.9, respectively. These targets represent 12-month return potentials of 20.3%, 20%, and 3.6%, respectively.
For exposure to Sanofi while diversifying away from unsystematic company-specific risks, investors can consider investing in the PowerShares International Dividend Achievers ETF (PID). PID has ~1.4% of its total portfolio holdings in SNY stock.
In the next article, we'll take a look at the transaction highlights of Sanofi's Ablynx acquisition.