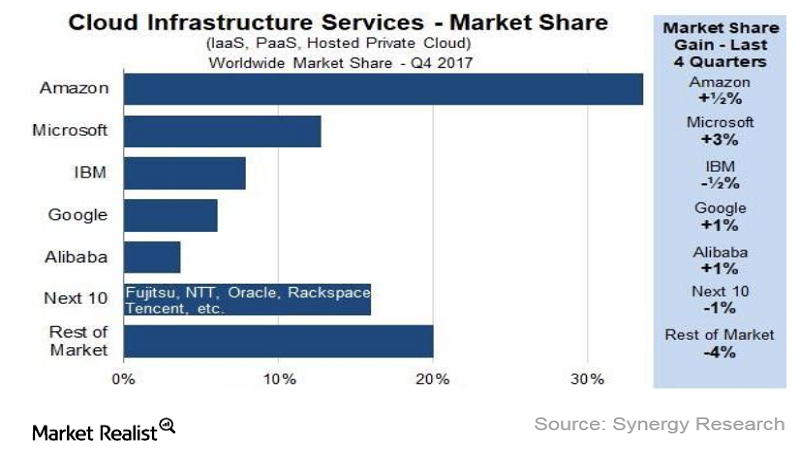 How Alphabet's Cloud Business Stacks Up against Its Competition
By Neha Gupta

Feb. 15 2018, Updated 3:35 p.m. ET
Fastest-growing cloud vendor
Google's CEO, Sundar Pichai, discussed the company's cloud computing business during Alphabet's (GOOGL) recent earnings call. According to Pichai, Google Cloud Platform (or GCP) is the fastest-growing major public cloud vendor in the world.
Amazon (AMZN), which operates in the cloud computing market as Amazon Web Services (or AWS), Microsoft (MSFT), and Alibaba (BABA) are among the major public vendors.
Article continues below advertisement
Microsoft's cloud market share grew 3.0%
According to Synergy Research, Microsoft was the fastest-growing cloud vendor in 2017, with its share of global cloud computing market expanding 3.0% in the year. Google and Alibaba grew their market share by 1.0% each. AWS's market share expanded 0.5% in 2017. IBM (IBM) lost 0.5% of its global cloud market share in 2017.
AWS grew 45% to become five times bigger than GCP
AWS is cited as the world's largest cloud vendor, commanding over a third of the global market, as we can see in the chart above. AWS grew 45.0% year-over-year in 4Q17 to bring in $5.1 billion in revenues.
If Google's cloud business is earning $1.0 billion in revenues per quarter, this indicates that Google cloud is currently just a fifth of Amazon's cloud business. This indicates that Google and Alphabet have a long way to catch up to the market leader.
However, Google executives think that it is only a matter of time before Google closes the gap with AWS and other rivals in the cloud industry, as GCP is growing faster than the competition.