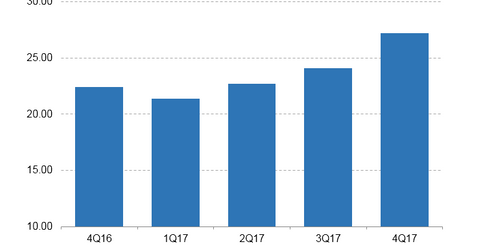 Alphabet's Advertising Business and How It Fared in 4Q17
By Neha Gupta

Updated
Ad revenue grew 21%
Alphabet's (GOOGL) advertising business continued to expand in 4Q17, with advertising revenue coming in at $27.2 billion, representing an increase of 21.4% YoY (year-over-year). Alphabet's advertising revenue grew at the same rate of 21.4% YoY in 3Q17.
Advertising revenue grew 18.4% YoY in 2Q17 and 18.8% YoY in 1Q17. Alphabet's advertising business has expanded 18% YoY in each of the four quarters of 2017.
Article continues below advertisement
Facebook's ad revenue grew 48%
Alphabet's advertising revenues are generated through its Google unit, which also includes YouTube. The 21.4% YoY increase in Google's advertising revenue in 4Q17 compares with a 48% YoY increase in ad revenue for Facebook (FB) in the same quarter. Facebook's ad revenue growth slowed down from 49% YoY in 3Q17.
Volume increase drove gains in ad business
Ad revenue growth at Alphabet in 4Q17 was driven by factors such as higher ad volume on Google networks. Google's paid clicks, a measure of ad volume, increased 43% YoY in 4Q17, which was more than the 42.1% increase that analysts expected. The increase in ad volume helped offset a decrease in ad price, or what Google reports as CPC (cost per click). Google's CPC fell 14% YoY in 4Q17. For Facebook, the average price per ad increased 43% YoY in 4Q17.
The recent growth in ad revenue showed that Google's advertising business remains resilient despite the growing wave of competition the company faces from traditional rivals, including Facebook and Twitter (TWTR), and from e-commerce and telecommunications operators Amazon (AMZN) and Verizon (VZ) that are stepping up their campaigns for digital advertising dollars.