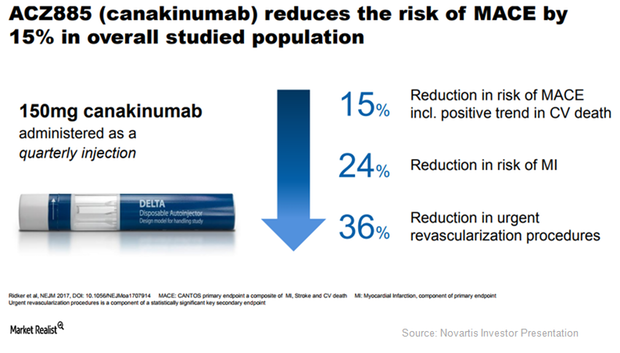 ACZ885: A Robust Treatment Option for Reducing Cardiovascular Risk?
By Margaret Patrick

Feb. 21 2018, Updated 9:03 a.m. ET
ACZ885 in Cantos study
On August 27, 2017, Novartis (NVS) announced positive results from its Phase 3 trial, CANTOS. CANTOS highlighted the efficacy of quarterly administered injections of combination regimen comprising 150 mg of its investigational therapy, ACZ885, with standard of care in reducing the risk of major adverse cardiovascular events (or MACE) by 15%. 
According to The Canakinumab Anti-Inflammatory Thrombosis Outcomes Study, MACE is "a composite of cardiovascular death, non-fatal myocardial infarction, and non-fatal stroke."
CANTOS had enrolled patients who had previously experienced myocardial infarction (or MI) or inflammatory atherosclerosis and were subject to elevated cardiovascular and cardiovascular inflammatory risk, respectively. Around 91% of the tested patients were also on lipid-lowering statin therapy.
The chart above shows how ACZ885 has scored on key metrics in the CANTOS trial. ACZ885 is expected to enable Novartis to pose tough competition to other cardiovascular players such as Amgen (AMGN), AstraZeneca (AZN), and Gilead Sciences (GILD).
Article continues below advertisement
Market opportunity
According to the US AHA's (American Heart Association) Heart Disease and Stroke Stats 2016 Update, EU5 Eurostat, and internal CANTOS data, there are around 1.3 million patients who have already faced a myocardial infarction in the US and EU5. 
Of these, ~520,000, or 40% of the post-MI patients, were eligible to participate in the CANTOS study. This eligibility was due to the high inflammatory burden characterized by high-sensitivity C-reactive protein (or hsCRP) greater than or equal to 2mg/L.
Of these patients, 260,000 who reach hsCRP levels lower than 2 mg/l in three months of treatment are expected to benefit most from ACZ. Based on the CANTOS study, almost half of these patients are expected to witness an ~25% relative risk reduction (or RRR) for MACE. So, ACZ885 is expected to be a strong option for reducing residual inflammatory risk in cardiovascular patients.