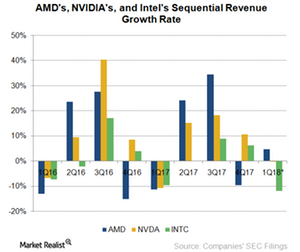 A Look at AMD's Key Revenue Growth Drivers
By Puja Tayal

Updated
AMD's 4Q17 revenue
Although Advanced Micro Devices (AMD) is a small player in terms of revenue compared to Intel (INTC) and NVIDIA (NVDA), it showed stronger growth than its rivals in 2017. AMD's revenue fell faster than those of its rivals in 1Q17, but it also grew faster than those of its rivals in 2Q17 and 3Q17.
In 4Q17, AMD's revenue rose 34% YoY (year-over-year) but fell 9.8% sequentially to $1.48 billion, beating analysts' consensus estimate of $1.41 billion. The 9.8% sequential fall was better than a seasonal fall in the mid-teens as a fall in semi-custom demand from game consoles was partially offset by strong demand for EPYC server CPUs (central processing unit).
The 34% YoY growth was driven by 60% YoY growth in the CG (Computing and Graphics) division. The company witnessed strong demand for its Ryzen CPUs and Polaris and Vega GPUs across all consumer segments.
For the whole of 2017, AMD's revenue rose 25% YoY, largely driven by 54% YoY growth in CG revenue as its EESC (Enterprise, Embedded, and Semi-Custom) revenue remained flat.
Article continues below advertisement
Computing
AMD's CG business increased its revenue contribution from 46% in 2016 to 57% in 2017. This growth came as the company's Ryzen CPUs managed to grab some market share from Intel in the CPU space. In 4Q17, AMD witnessed strong holiday sales of its Ryzen CPUs. It also reported the initial sales of its Ryzen Mobile APUs (application processing unit), which launched in 4Q17.
Graphics
In the graphics space, AMD saw strong demand for its GPUs from crypto miners and gamers in 4Q17. Its Vega revenue more than doubled on a sequential basis driven by strong demand from gamers, crypto miners, and OEMs (original equipment manufacturer) such as Apple, which is using Vega GPUs inside its latest iMac Pro.
Crypto miners use GPUs to solve complex mathematical equations to earn cryptocurrency, and Ethereum miners prefer AMD's GPUs. Ethereum prices rose significantly in 4Q17, which saw many crypto miners purchase the entire GPU stock from the market to mine currencies.
Article continues below advertisement
Neither AMD nor NVIDIA provided the bifurcation of GPUs sold to crypto miners and gamers. They're difficult to quantify because both buy GPUs through the same channels. However, AMD did state that cryptocurrency contributed significantly—at least 6%–8%—toward its revenue and created a GPU shortage in the market.
Graphics supply
AMD is looking to increase its GPU supply to replenish its channel inventory and meet the pent-up demand from gamers who couldn't buy GPUs during the holiday season. However, it faces supply shortages of memory chips used in GPUs. This could see another strong quarter of GPU revenue for AMD.
Next, let's see how 2018 could shake out for AMD.