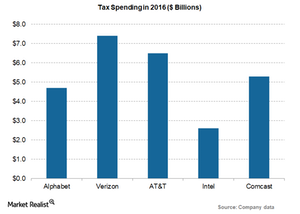 How Verizon Could Benefit from US Tax Reform
By Sophia Nicholson

Jan. 25 2018, Updated 7:30 a.m. ET
US tax cut to benefit the economy
President Trump's new tax reform bill has sent waves of optimism through the overall US economic outlook, as companies plan to use their tax savings to expand their businesses. A significant cut in corporate taxes from 35% to 21%, as well as a 20% deduction for income from pass-through companies, is likely to strengthen the US economy. This would benefit sectors such as banking and technology.
Alphabet (GOOGL) spent $4.7 billion of its profits on taxes in 2016. In the same year, Verizon (VZ), AT&T (T), Comcast (CMCSA), and Intel (INTC) saw tax bills of $7.4 billion, $6.5 billion, $5.3 billion, and $2.6 billion on their profits, respectively.
Article continues below advertisement
Verizon and T-Mobile to get more relief
In the tech sector, the telecom industry seems to benefit the most. The reduced tax rate would be immediately accretive to cash flows for companies in the telecom industry.
Moreover, the tax cut would offer sufficient incentives to firms to repatriate accumulated profits from overseas. However, the big four US wireless network operators are not expected to equally benefit from corporate tax cuts, according to analyst Craig Moffett.
According to MoffettNathanson, the cut in tax rates could benefit Verizon and T-Mobile more than it would help AT&T. Verizon and T-Mobile derive a significant amount of revenues from the domestic market, and they invest most of their capital in the US. However, Sprint would not realize much benefit on the tax reform.
AT&T's CFO, John Stephens, stated that his company is "optimistic about tax reforms." However, Moffett pointed that AT&T historically has low cash taxes, and the company also forecasts low taxes in the coming quarters. As a result, this would reduce the impact of tax cuts. Sprint doesn't expect to be impacted by the tax reform bill, as the company does not forecast any cash taxes.