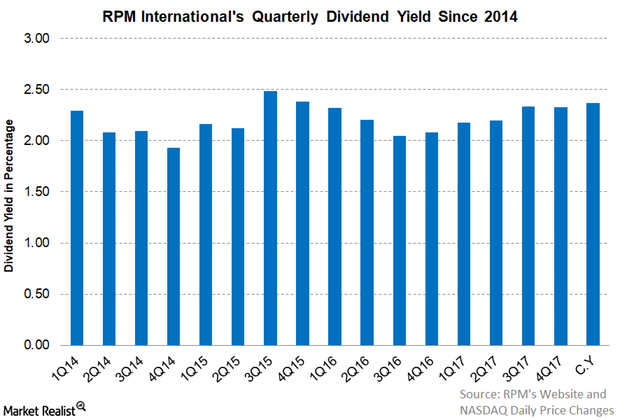 Will RPM International's Dividend Yield Be Steady?
RPM International's dividend yield
A higher dividend yield is what keeps long-term investors on their toes. Dividend yields are the actual return for every dollar invested in the company's equity until investors sell the stock before realizing capital gains or capital loss. A long-term investor will look for companies that have a history of paying regular dividends, a good dividend yield, and dividend growth.
As of January 9, 2018, RPM International's (RPM) current dividend yield stood at 2.40%. Its peers like Sherwin-William (SHW) and PPG Industries (PPG) have current dividend yields of 0.80% and 1.40%, respectively. Axalta (AXTA) doesn't have a dividend yield because it hasn't paid a dividend to its shareholders. Compared to its peers, RPM International has a better yield. Its dividend yield is better than the yield generated from one-year Treasury bonds. It could be an alternative investment option for investors.
Article continues below advertisement
High dividend yield
Since 2014, RPM International's dividend yield has largely been above 2.0%. Its dividend has been stable due to good growth in the dividend rate. In the past three years, RPM International's dividend has grown at a CAGR (compound annual growth rate) of ~7.70%. At the same time, RPM International' stock price has grown 7.2%. As a result, RPM International's dividend yield has been stable.
RPM International's dividend yield could remain stable. If RPM International's stock price increases dramatically, it could lead to a fall in the dividend yield.
Investors can hold RPM International indirectly by investing in the PowerShares S&P MidCap Low Volatility Portfolio (XMLV). XMLV has invested 1.20% of its portfolio in RPM International as of January 9, 2018.