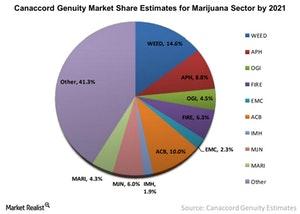 Who Will Be the Biggest Players in the Marijuana Space?
Marijuana sector
With the marijuana sector heating up in Canada lately, we know that several existing and new companies will be rushing to capitalize on the opportunity. Canaccord Genuity, an investment banking company, has outlined the players by market share.
Article continues below advertisement
Market share
The chart above shows that Canopy Growth Corporation (WEED) is expected to command the largest portion of the market (MJX) (HMLSF) share, or 14.6%, as an individual entity by 2021. The company serves primarily the medical marijuana market as of the date of this writing, but it has the infrastructure to scale up its production to serve the recreational market as well.
Aurora Cannabis (ACBFF) is expected to command almost 10% of the market share followed by Aphria (APH.TO), which is expected to command 8.8% of the market share by 2021.
The Supreme Cannabis Company (FIRE.V) is expected to hold a 6.3% market share followed by Cronos Group (MJN) at 6% of the total.
In all, nine players are expected to hold almost 59% of the medical and recreational cannabis market share by 2021 according to Canaccord Genuity.
Notably, these companies are already active in the medical marijuana space, and some have seen a significant jump in the number of patients requiring medical cannabis in the most recent quarter. With the legalization of recreational marijuana in Canada, initial growth will be steep as these companies expand to capture the market. It will be interesting to see which company significantly penetrates the Canadian market first.