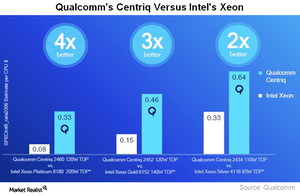 Will Intel's Chip Design Flaw Give Rivals an Opportunity?
By Puja Tayal

Updated
Competition growing for Intel 
For a very long time, Intel (INTC) enjoyed a monopoly in the server and PC CPU (central processing unit) markets. Advanced Micro Devices (AMD) was Intel's only competitor in these two markets, as the former has the license to use the x86 design.
Intel joined the mobile revolution late with its Atom processors. However, Atom processors couldn't compete with ARM-based Qualcomm (QCOM) processors in the mobile processor market, which forced Intel out of this market. In the graphics and AI (artificial intelligence) space, NVIDIA's (NVDA) GPUs (graphics processing units) overtook Intel's microprocessors.
Amid increasing competition, the Meltdown and Spectre flaws are threatening the company's server and PC CPU businesses where it remains unbeatable. This scenario is likely to change.
Article continues below advertisement
Cloud companies
Cloud companies like Apple (AAPL), Google (GOOG), Microsoft (MSFT), Amazon (AMZN), and Facebook (FB) already have an internal research and development team in place to design their own server chips. As Intel has a monopoly in the server CPU market, the cloud companies have been encouraging competition.
AMD
In 2017, AMD entered the high-end server CPU market with its EPYC chips. With this, the company looks to take some share from Intel in the server CPU space. Five hyperscale cloud companies—including Google, Baidu (BIDU), and Amazon—have shown interest in the EPYC processor.
Article continues below advertisement
Qualcomm
Qualcomm also entered the server CPU market with its ARM-based Centriq 2400 processors in 2017. These processors were praised by Microsoft and Google. Cloudflare chief technology officer John Graham-Cumming tested the Centriq processors and stated that they deliver better performance per watt because of their power-efficient ARM architecture.
Do Intel's chip design flaws give rivals an opportunity?
Many chip companies are looking to compete with Intel, but the chip flaw is unlikely to change the chip market dynamics, as both AMD and ARM-based chips are exposed to Spectre. These other companies are also working on a  solution to this flaw.
But the fact that Intel's chips are vulnerable to the design flaw could encourage customers to negotiate lower prices from Intel or shift a part of their orders to other suppliers like AMD and QCOM. Intel earns over $17 billion in revenue from the data center business. If AMD and Qualcomm manage to secure even a 5% to 7% market share from Intel, each will add $1 billion to their revenue.
These security issues didn't deter Intel from transitioning to a data-centric company. The company showcased its innovations in computing at the CES (Consumer Electronics Show) 2018, which restored some investor confidence. Intel's stock rose 4.4% within a week from the CES showcase.
Continue reading to look at the innovations Intel presented at the CES 2018.