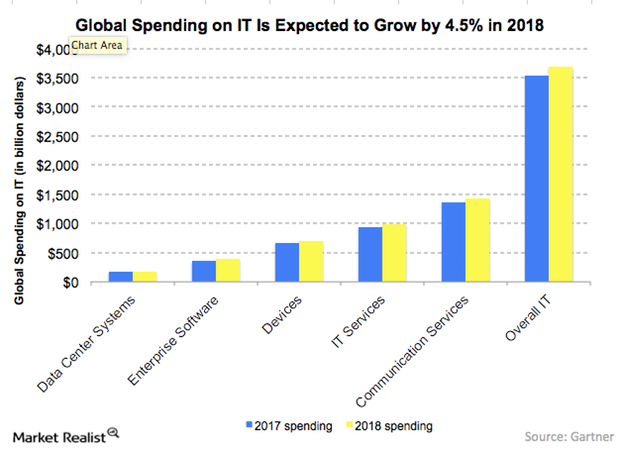 Will Global Spending on Information Technology Increase in 2018?
By Sanmit Amin

Jan. 19 2018, Updated 5:05 p.m. ET
Global spending on IT estimated to reach $3.7 trillion this year
According to Gartner Research, global spending on information technology (or IT) is estimated to reach a whopping $3.7 trillion in 2018. That would represent a 4.5% rise over 2017. Global spending on IT in 2017 was $3.5 trillion, which was 3.6% higher than 2016. Spending on IT, however, could be affected by macroeconomic factors such as currency fluctuations and the Brexit.
Spending on IT is likely to increase as technology firms look to unlock the potential in upcoming areas such as blockchain, AI (artificial intelligence), and IoT (Internet of Things), according to the same report.
Article continues below advertisement
Spending on cloud AI and IoT to drive spending
Global spending on enterprise software is estimated to be $389 billion in 2018, which would be 9.5% higher than 2017. It's estimated to grow 8.4% in 2019. Businesses could divert more money to software-as-a service.
AI-driven spending is likely to reach a whopping $2.9 trillion by 2021, according to the report. AI is estimated to create 2.3 million jobs globally. Nvidia (NVDA) is the pioneer in AI technology. Nvidia and other chip companies are likely to benefit as AI technology and IoT become mainstream over the years.