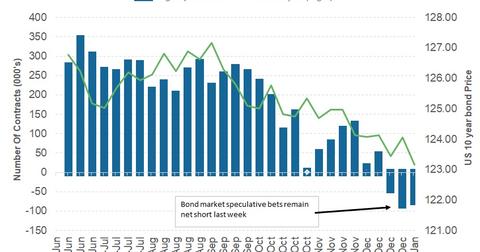 Will Bond Yield Spreads Continue to Get Narrower?
By Ricky Cove

Updated
US bond markets: Yield curve flattening continues
The US bond (BND) markets returned to weakness last week after a minor bout of enthusiasm following the tax cut announcement. The troubles surrounding a flattening yield curve extended into the new year with the spread between the US ten-year and two-year Treasuries narrowing to a level last seen before the financial crisis of 2008. A flattening yield curve, if progress could lead to a yield curve inversion, could be a signal for a future recession. The reason for the yields falling lower was the lower level of inflation expectations.
Article continues below advertisement
Bond market performance and speculator positions
For the week ended January 5, 2018, the ten-year yield (IEF) increased by 7 basis points to 2.5%. The two-year yield (SHY) closed at 2.0, a rise of 8 bps (basis points), and the longer term 30-year yield (TLT) closed at 2.8, a rise of 7 bps. The retreat of yields from higher levels added to the concerns of a flattening yield curve.
According to the latest COT (Commitment of Traders) Report released on January 5, 2018, by the CFTC (Chicago Futures Trading Commission), speculators decreased their short positions on the ten-year bond with the net short positions decreasing to 75,850 contracts from 83,666 contracts. Speculative positions on the ten-year bond turned negative for the first time in six months in December 2017. If inflation doesn't improve in 2018, we could expect a further softening of long-term yields going forward.
The week ahead for the bond markets
US inflation and FOMC (Federal Open Market Committee) member speeches could be the key drivers for the bond market (AGG) this week. US inflation for December 2017 is expected to be reported at a month-over-month growth of 0.2%, and annual inflation growth is expected to remain a little below 2%. If FOMC members remain optimistic, the impact on the markets could be limited, but if they have concerns about inflation, investors could expect fewer rate hikes in 2018, which could lead to some recovery in the bond markets.
In the next part of this series, we'll analyze why the euro appreciated in the first week of 2018.