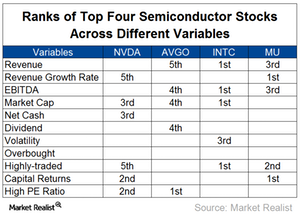 Why Micron Technology Outperformed the Semiconductor Industry
By Puja Tayal

Updated
Micron outperforms the semiconductor industry
The technology industry (QQQ) is undergoing a paradigm shift toward AI (artificial intelligence) and IoT (Internet of Things). The first signs of this shift were visible in 2017 as the semiconductor industry's revenues rose 20.6% YoY (year-over-year). The largest growth of 60.0% was seen in the memory space, according to WSTS (World Semiconductor Trade Statistics).
Memory is the key component in almost all devices that use data. Samsung (SSNLF), Micron Technology (MU), and SK Hynix were the biggest beneficiaries of this growth.
This was the first time that Samsung overtook Intel (INTC) to become the largest semiconductor company by revenue. Micron Technology ranked among the top five semiconductor companies by revenue.
Micron Technology (MU) had a record year in 2017. Its revenues and stock price growth were the highest among the 26 semiconductor stocks we cover. Micron Technology was the third-largest semiconductor company by revenue and profit.
This financial performance made Micron Technology the second-most highly traded semiconductor company at the end of December 2017.
Article continues below advertisement
Key growth drivers
Micron Technology (MU) earns 60.0% of its revenues from DRAM (dynamic random access memory). SK Hynix and Samsung stopped their DRAM production to focus on NAND. Micron shifted to 1X DRAM, which reduced its annual cost per bit by 20.0%. DRAM and NAND demand increased significantly in the mobile, PC, and server markets.
In the PC space, Micron Technology's revenues were mostly driven by GPUs (graphics processing units) as NVIDIA (NVDA) witnessed strong demand from gamers and cryptocurrency miners. NVIDIA sources GDDR5 (graphics double data rate) memory from Micron.
NVIDIA's revenues are expected to increase ~30.0% YoY in 2017. Laptops started replacing HDDs (hard disk drives) as flash SSDs (solid-state drives) drove NAND demand.
Mobile space
In the mobile space, handset makers such as Apple (AAPL) increased their DRAM content as they added AI and 4K features on their phones. In the server space, NVIDIA witnessed triple-digit growth as many cloud companies adopted its GPUs for their AI workloads.
Micron Technology expects to see strong demand from embedded markets as autonomous cars hit the road in 2018 and smart city deployment begins. These initiatives could broaden the end market for memory chips to include home appliances, drones, smart cameras, cars, and industrial equipment.
Many analysts believe that this technology shift could reduce the cyclicality of the memory industry, which would diversify the markets and call for specialized memory solutions.
In this series, we'll look at Micron Technology's business segments. We'll also explore how the company seeks to capitalize on the changing market dynamics of its end markets.