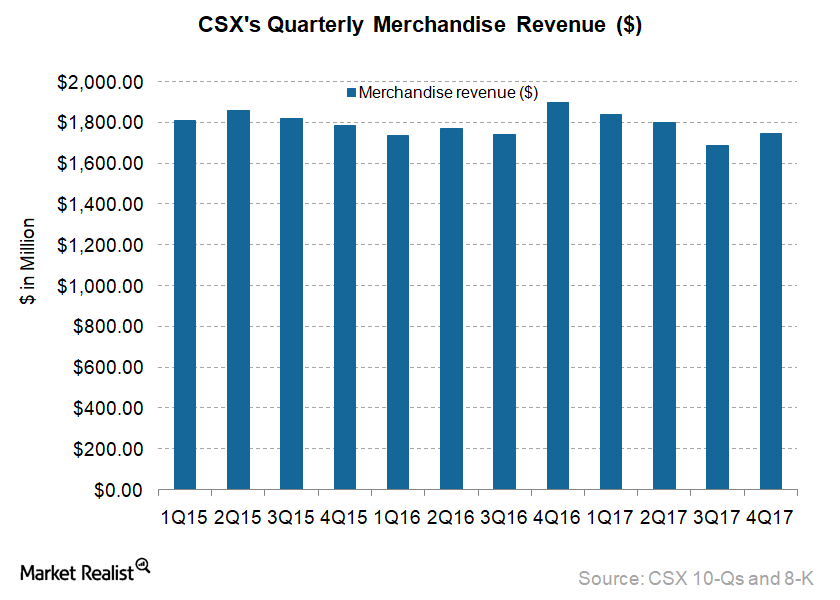 Why CSX's Merchandise Freight Revenues Fell in 4Q17
CSX's Merchandise segment
CSX's (CSX) General Merchandise revenues fell by $152.0 million or 8% to $1.74 billion in 4Q17, down from $1.89 billion in 4Q16.
On a non-GAAP (generally accepted accounting principles) basis, the division's revenues fell 2% in the fourth quarter of 2017. As stated previously, non-GAAP comparison eliminates the extra week that CSX had in 4Q16. The General Merchandise segment's share of the company's total revenues fell to 60.9% from 62.4% in 4Q16.
Merchandise revenue growth remains a weak spot for CSX. The railroad's YoY Merchandise revenue growth has declined in seven of the past eight quarters. On a sequential basis, the segment's revenues fell from 4Q16 to 3Q17.
Article continues below advertisement
CSX's Merchandise volumes in 4Q17
Agricultural and food product (ADM) carloads fell 14% in 4Q17 to 113,000 units, down from 131,000 units in 4Q16. Hard export market conditions led to a reduction in agricultural shipments. Volumes of chemicals (HUN) fell 9% due to the weakness in energy markets.
Notably, in 4Q16, CSX realized higher chemical volumes due to a large soil remediation project. Automotive (TSLA) shipments fell 12% on account of reduced vehicle production in North America.
Minerals volumes fell 6% in 4Q17, primarily due to short-term competitive losses to other transportation (XTN) modes. Fertilizer carloads fell mainly on account of a customer facility closure, which impacted short-haul rail shipments for CSX.
Volumes of forest products fell 6%, while metals and equipment carloads fell 13%. Metal shipments declined due to the reduction of hauling of large equipment compared with 4Q16, along with difficulties in steel markets.
CSX's Merchandise segment outlook
CSX expects a stable business in base chemicals and paper boards. It also anticipates weak crude-by-rail shipments in coming quarters. The Jacksonville-based railroad believes that its Merchandise segment revenues could grow at or above the US economic growth rate, but weakness in North American light vehicle production (TSLA) is expected to lower freight volumes in the coming quarters.
With the rise in oil prices—along with the Trump administration's decision to open nearly all US offshore areas for oil and natural gas drilling—the rig count could very well go up. This, in turn, could boost the volumes of fractionating sand along with non-energy chemicals for CSX.