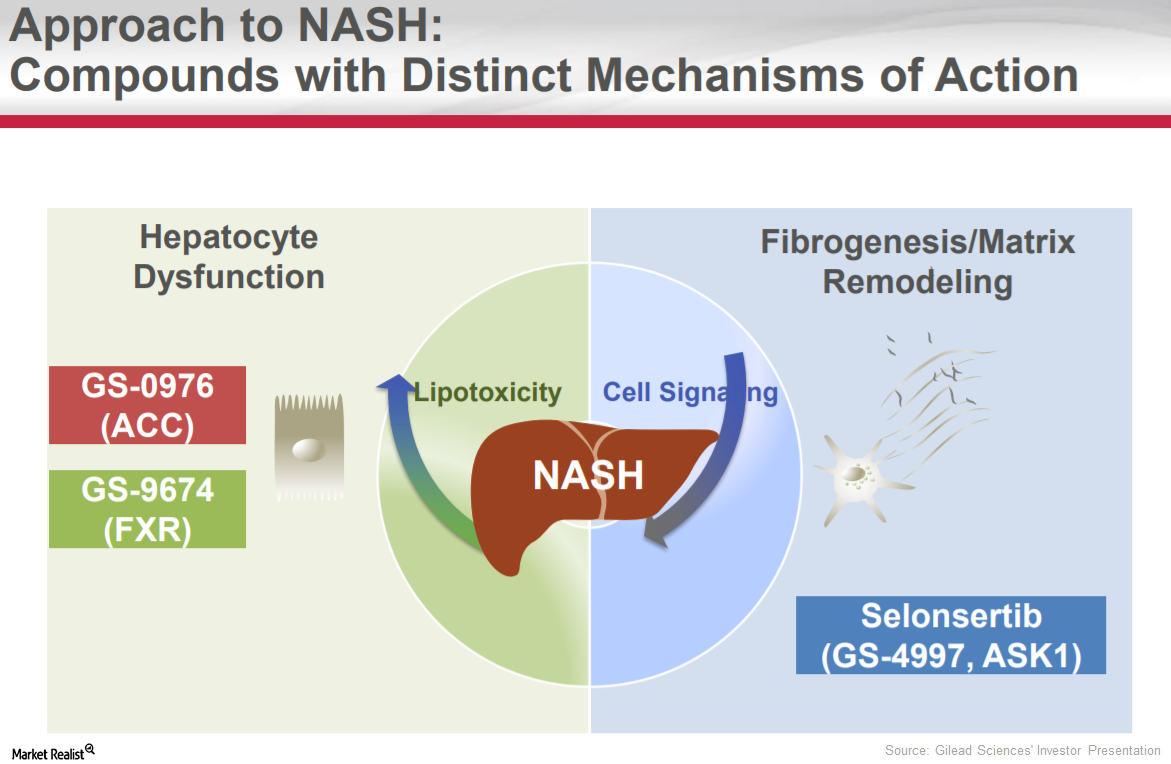 Which Gilead Sciences Portfolio Could Give a Long-Term Boost
By Daniel Collins

Jan. 31 2018, Updated 10:35 a.m. ET
About NASH
Non-Steatohepatitis (or NASH) is a chronic disease related to steatosis wherein fat accumulates in the liver and can lead to inflammation, progressive fibrosis, and cirrhosis. Gilead Sciences is proceeding with multiple novel investigational compounds for the treatment of individuals with NASH with advanced fibrosis.
Studies have estimated that 27%–34% of the general population have NAFLD (nonalcoholic fatty liver disease), and approximately 20% of patients with NAFLD have NASH. Studies have estimated that between 2% and 5% of all Americans have NASH.
Article continues below advertisement
Outcomes of the phase-2 trial
In October 2017, Gilead Sciences (GILD) presented the results of its phase-2 placebo-controlled trial, which evaluated the safety and efficacy of two doses of GS-0976 in individuals with NASH. GS-0976 is an Acetyl-CoA carboxylase inhibitor under investigation for the treatment of NASH.
In its phase-2 clinical trial, the higher dose of GS-0976 demonstrated a statistically significant decrease in hepatic steatosis when administered for 12 weeks and compared with a placebo.
The phase-2 trial included 126 candidates with NASH who were randomized to receive GS-0976 20 mg (milligrams), GS-0976 5 mg, and a placebo once daily for 12 weeks. Patients receiving GS-09760 demonstrated a significant decline in TIMP-1, a serum marker associated with liver fibrosis.
Other key details
Among patients receiving GS-0976 20 mg, GS-0976 5 mg, and a placebo, respectively, at week 12, the median relative change in triglycerides showed from baseline of +11%, +13%, and -4%, respectively. Notably, 16 patients receiving GS-0976 demonstrated asymptomatic grade-3 or -4 triglycerides elevations.
The majority of patients who showed such symptoms either responded to fish oil therapy or resolved without additional treatments.
Other notable drugs in the clinical pipeline for the evaluation of safety and efficacy in the treatment of NASH include Galmed's (GLMD) Aramchol, Intercept Pharmaceuticals' (ICPT) Obeticholic acid, Conatus Pharmaceuticals' (CNAT) Emricasan, and Shire's Volixibat.
Notably, the Vanguard Value ETF (VTV) invests ~0.41% of its total portfolio holdings in Gilead Sciences.