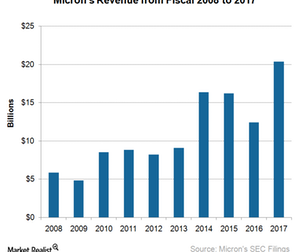 What's the Difference between Past Micron and 2017 Micron?
By Puja Tayal

Updated
The cyclical nature of Micron
Micron Technology (MU) is a pure-play memory company that has always been given a low valuation because the cyclical nature of the memory market doesn't encourage investors to hold it for the long term.
Earlier, the memory market had ~13 suppliers. Because the cost of adding new memory capacity was low, suppliers invested heavily in adding production capacity when the business was profitable, leading to oversupply. Because memory is a commodity, its prices crashed when supply increased more than demand.
Article continues below advertisement
In order to recuperate the amount they'd invested in building capacity, memory makers sold heavily—even at low prices—which negatively impacted their profits. As we can see in the graph above, the 2016 memory downturn reduced Micron's revenue by almost 25% and sent it into losses. Micron also had to take on a large amount of debt to run its business.
Micron had a strong year in 2017, though many investors speculate that the company is at the peak of the memory uptrend and will face another downturn in late 2018 or early 2019. It's difficult to say to what extent the memory market cyclicality will affect Micron's future profitability. However, the impact shouldn't be as severe as previous cycles because things are different this time.
Micron may be able to break the trend and improve its profitability and long-term outlook.
Why was 2017 Micron different?
Firstly, memory market oversupply has decreased because the cost of adding capacity has risen by over 250% since 2012. Even though companies have increased their capital spending, they cannot increase capacity as fast as they did in the past.
Secondly, the memory market has consolidated, leaving few major suppliers, such as Samsung (SSNLF), SK Hynix, Micron, Toshiba (TOSBF), and Western Digital (WDC). These suppliers have adopted a supply discipline to protect their profits in the event of a slowdown in demand, thereby reducing the extent of oversupply. For instance, Samsung and SK Hynix stopped adding DRAM (dynamic random-access memory) capacity in mid-2016 after DRAM prices crashed.
Lastly, memory products have diversified beyond the PC (personal computer) and mobile spaces to the IoT (Internet of Things) and automotive spaces. As the technology industry (QQQ) shifts toward AI (artificial intelligence) and IoT, whereby almost every electronic device will have some computing capability, the demand for data processing and storage is increasing.
In this series, we'll look at secular memory demand in the technology industry and how it's affecting the memory and semiconductor industry. We'll also see how Micron is preparing to leverage this opportunity.