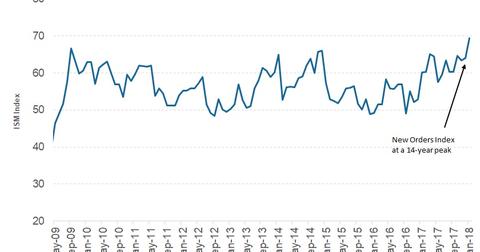 What Drove the ISM New Orders Index to a 13-Year High?
By Ricky Cove

Jan. 31 2018, Updated 10:05 p.m. ET
ISM New Orders Index
The ISM (Institute of Supply Management) publishes a monthly manufacturing report on changes in new orders, supplier deliveries, inventories, production, and employment. This report is prepared by conducting a survey of 400 industries (XLI) throughout the nation, and participants have to rate the conditions of their industry (VIS) as either good or bad.
The ISM New Orders Index is a diffusion index, with the extremes being zero and 100. There are 11 constituents in the ISM manufacturing report, and the Conference Board uses the New Orders Index as one of the constituents in its LEI (Leading Economic Index) model. The ISM New Orders Index has an overall weight of ~15.9% on the Conference Board LEI.
Article continues below advertisement
Recent data release
The ISM New Orders Index for December was reported at 69.4, compared with a reading of 64.0 in November. The index has moved to a 14-year high, driven by the increased optimism of US manufacturers and the continued growth of the US economy.
The ISM New Orders Index had a net positive impact of 0.29 (or 29%) on the leading economic index in December. Any increase in this index can be translated to increased production at manufacturing industries, which is a positive sign for the US economy.
Reading the impact of the ISM Index on markets
The ISM Index is the first economic report to be published every month, and a positive reading sets the expectations of equity (SPY) market investors. A reading above 50 denotes an expansion in the manufacturing (FXR) sector. The index has stayed above this critical level since September 2016.
Industry health could improve further in the US as the effects of tax cuts and import tariffs come to fruition. Meanwhile, equity markets (ITOT) remain optimistic about the sector, which has garnered gains close to 7% in 2018.
In the next part of this series, we'll discuss the impact of US tax cuts on investment spending by industries.