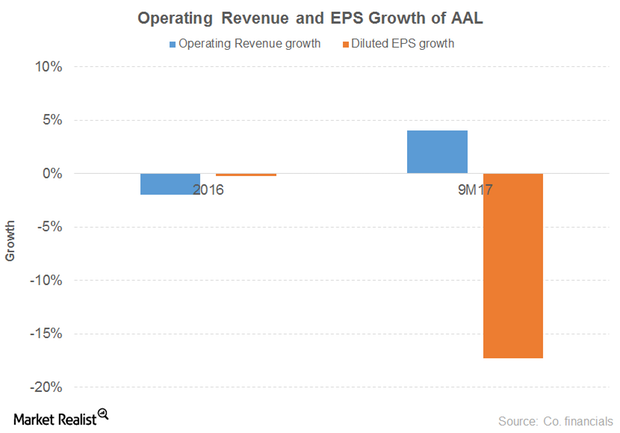 What American Airlines Has to Offer
By Amanda Lawrence

Jan. 29 2018, Updated 9:01 a.m. ET
What drove operating revenue gain?
American Airlines Group's (AAL) operating revenue fell 2% in 2016 before gaining 4% in 9M17. A strong demand for air travel drove the 9M17 numbers. Revenue from mainline passengers and cargo declined in 2016, offset by regional passengers and other. All of them drove growth in 9M17.
PRASM, (passenger revenue per available seat mile), TRASM (total revenue per available seat mile), and cargo yield per ton mile decreased in 2016 for total mainline and regional. PRASM and TRASM grew in 9M17, offset by cargo yield per ton mile. Aircraft at the end of the period grew slightly in 2016 compared to 9M17. Average aircraft fuel prices recovered in 9M17 from the fall in 2016.
Article continues below advertisement
Why diluted EPS fell
AAL's cost of revenue decreased 7% in 2016 before rising 10% in 9M17. Aircraft fuel and related taxes triggered the cost in 9M17. Gross profits grew 1% in 2016 and remained flat in 9M17. Operating expenses increased 7% and 8% in 2016 and 9M17, respectively. As a result, operating income fell 15% and 25% in 2016 and 9M17, respectively. Cancellation of flights due to the hurricanes affected the company's operations. Interest expenses increased during the periods. As a result, diluted EPS (earnings per share) remained flat in 2016 and fell 17% in 9M17. Share buybacks enhanced the EPS numbers.
Dividend yield and price performance
American Airlines doesn't have a good free cash flow position. Constant dividends per share and higher prices have led to a uniform dividend yield with a slight fall in 2017.
Its dividend yield of 0.7% and PE (price-to-earnings) ratio of 12.1x compare to a sector average dividend yield of 1% and a PE ratio of 14.4x. AAL rose 10%, 11%, and 12% in 2016, 2017, and YTD (year-to-date), respectively.
Article continues below advertisement
Going forward
American Airlines Group introduced a new basic economy fare, announced new routes for the summer season, added free meals in special coast-to-coast flights, began a strategic relationship with China Southern Airlines, launched service to three European cities from Dallas/Fort Worth and Chicago, and introduced new flights to Europe.