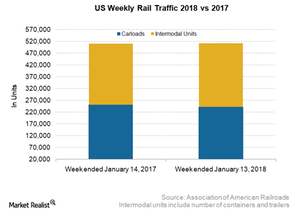 Week 2: Riding on Intermodal, US Rail Freight Traffic Soars
By Samuel Prince

Jan. 22 2018, Published 12:26 p.m. ET
US rail freight traffic
On January 17, 2018, the AAR (Association of American Railroads) released its North American rail freight data for the week ended January 13, 2018, or Week 2 of 2018. In 2017, overall rail traffic, including intermodal, was up ~3% YoY (year-over-year), though much lower than the freight volumes achieved in 2014 and 2015.
US rail freight carriers haven't started 2018 well. However, it's too early to say that this year won't offer hope for rail traffic. While carload traffic fell 4.1% in the second week of 2018, intermodal volumes rose 5%. US rail carriers (UNP) moved ~241,300 carloads, compared with 251,700 carloads in the second week of 2017. Intermodal traffic amounted to ~270,600 containers and trailers, compared with 257,700 units in the corresponding week last year.
Commodity groups that reported a rise from the second week in 2017 included nonmetallic minerals, chemicals, and forest products, and commodity groups that recorded lower volumes included coal, grain, metallic ores, and metals.
Article continues below advertisement
In the first two weeks of 2018, US railroads (IYJ) registered a cumulative volume of ~450,000 carloads, down 4.6% from last year's levels. They hauled ~477,800 intermodal units, up 1% from last year. Overall US traffic for the first two weeks of 2018 was ~928,000 carloads and intermodal units, representing a fall of 1.8% from 2017.
Other North American volumes
In the second week of 2018, Canadian (CNI) railroads moved ~75,000 carloads, down 0.8% from 2017. Intermodal traffic rose 5.6% to ~63,500 trailers and containers, and Mexican (KSU) rail carriers moved ~20,800 carloads, up 2.4% from 2017. Their intermodal traffic stood at ~18,900 units, indicating 6.6% growth.
In this series, we'll look at US rail freight traffic in Week 2 of 2018. Let's start with major Western US rail giant BNSF Railway (BRK-B).