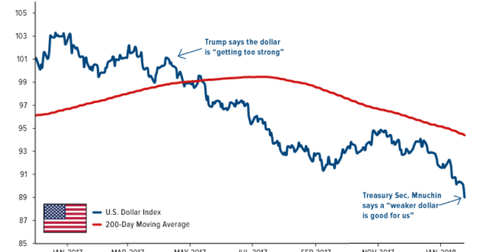 How Could a Weakening US Dollar Impact Microsoft?
By Anne Shields

Updated
US dollar fell to 3-year low
Earlier in this series, we saw how Microsoft (MSFT) and its investors could benefit from the new tax reforms that could bring billions of dollars of cash parked overseas back into the United States. Since Microsoft generates slightly more than 50% of its overall revenues outside the United States, a strengthening or weakening US dollar (UUP) has a marked impact on Microsoft.
Last week, the US dollar (UUP) fell to a three-year low after U.S. Secretary of the Treasury Steven Mnuchin said at the World Economic Forum in Davos, Switzerland, "Longer term, the strength of the dollar is a reflection of the strength of the U.S. economy and the fact that it is and it continues to be the primary currency in terms of the reserve currency."
Article continues below advertisement
Strengthening of other currencies, especially the euro and the Japanese yen, has also adversely impacted the dollar. A stronger-than-expected macro data and expectations of monetary policy tightening by the European Central Bank are providing stimulus to the euro. The expectations of quantitative easing unwinding provided a fillip to the yen. The Bank of Japan unexpectedly cut long-term purchases at its January 2018 meeting. As the interest rate differential between the United States and the rest of the world declines, demand for the US dollar could fall.
Weaker dollar's impact on S&P 500 technology sector
The technology sector generates the highest percentage of overseas revenue and includes many multinational brand names that tend to generate heavy demand overseas. According to Reuters, approximately 60% of S&P 500 (VOO) technology revenues come from overseas.
So with the weakening of the US dollar, the technology sector with big overseas revenues is likely to see the biggest benefit. Recently, International Business Machines (IBM) cited the dollar's positive effect on revenue growth in its fiscal 4Q17 earnings.
According to Bucky Hellwig, senior vice president at BB&T Wealth Management in Birmingham, Alabama, "Some of the strength in the S&P 500. SPX over the past couple of weeks is from the weaker dollar. It's a tailwind to earnings, and that's what we've been seeing play out here."