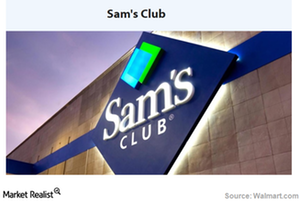 Walmart Hikes Wages and Announces 63 Sam's Club Store Closures
By Amit Singh

Jan. 12 2018, Updated 9:05 a.m. ET
Starting rate to be $11 per hour
Thanks to the recently enacted tax reform bill, retailers who were in the highest tax bracket and had more exposure to the domestic market will now have additional cash on hand. While Target (TGT) didn't specify what it would do with the extra cash flow, it could help the company to continue to push its growth agenda and enhance shareholder value. Meanwhile, Walmart (WMT) stated that it would pass on the benefits of the savings to its employees.
Walmart announced yesterday that it would raise its starting wages to $11 per hour from $9 and expand its existing parental benefits. Plus, the company will also roll out one-time bonuses ranging from $200 to $1,000 to eligible employees based on the duration of their employment.
Article continues below advertisement
With or without tax cuts, Walmart was under pressure to increase its minimum rate, especially considering the tight labor market with a historically low unemployment rate. Moreover, rival Target raised its minimum wage rate to $11 in October 2017 and committed to increasing it to $15 by the end of 2020.
Walmart to close 63 Sam's Club stores
In a separate announcement, Walmart stated that it could close 63 Sam's Club stores in the US (SPY), leaving many employees jobless. Amid the consumer shift towards online shopping and Amazon (AMZN) gaining ground, Walmart is focusing on deploying its resources on its digital platform.
The company stated earlier that it plans to invest more in its digital platform and remodel existing stores. Besides, the company slowed down the pace of new store openings and is shuttering underperforming ones. The company stated that of the 63 facilities, 12 would be converted into its e-commerce fulfillment centers, which would help it to ramp up its delivery of online orders.
With the closure of 63 facilities, Walmart will now have 597 Sam's Club stores.