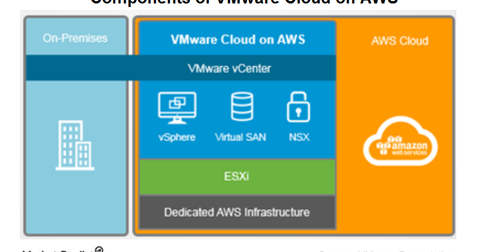 VMware's Cloud Strategy and the Current Cloud Preferences
By Anne Shields

Jan. 3 2018, Published 3:53 p.m. ET
Multi-cloud strategy to benefit VMware
Companies are increasingly being drawn to a multi-cloud strategy. Workloads and other factors such as security, data residency, and regulations are expected to be instrumental in their decision to choose which workloads will run in the private cloud versus the public cloud.
This gradual shift of workloads from the private cloud to the public cloud and vice versa is expected to be instrumental in the growth of the hybrid cloud. That could work significantly in favor of VMware (VMW).
Article continues below advertisement
VMware provides a consistent infrastructure that can operate across public as well as private clouds. That means VM (virtual machine) stack technology is running on-premise as well as in the cloud of the company's choice. VMware's architecture enables migration of workloads back and forth from on-premise to the public cloud and thus ensures compatibility between the public and private clouds.
VMware's offering, VMware Cloud on AWS (Amazon Web Services), an end result of a partnership between VMware and Amazon (AMZN), provides this migration, compatibility, and elastic capacity expansion when needed. Elastic capacity expansion refers to the ability to acquire capacity in the cloud without having to develop or invest in your own data center.
VMware's strategy to gain a foothold in the cloud space
Sensing and realizing stiff competition in the public cloud posed by Amazon and Microsoft (MSFT), VMware altered its cloud strategy. Rather than making investments in the globally distributed large-scale data center where it would be difficult to compete with Amazon and Microsoft, VMware developed VMware Cloud Foundation, which not only works in the public cloud but also in the private cloud.
VMware Cloud Foundation encompasses computing, storage, and networking along with management and is available on multiple clouds. Through VMware Cloud Foundation, VMware intends to provide consistent infrastructure as well as consistent operations.
For enterprise customers that use cloud-native applications and build applications natively on Amazon's AWS, Microsoft Azure, and other clouds, VMware has rolled out some cloud offerings. They include cost management discovery, networking as a service for native workloads in AWS, and other services.