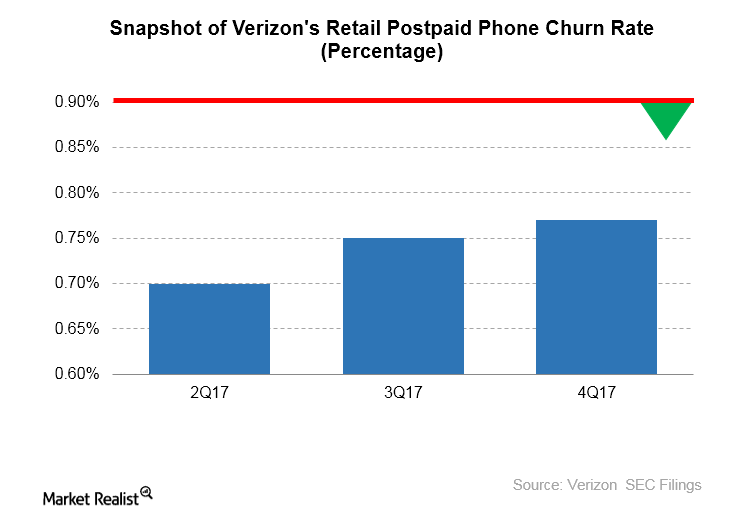 Why Verizon Gave Up Mobile Exclusivity in Renewed NFL Deal
Verizon praised exclusivity in previous deal
One of the notable departures in Verizon's (VZ) new sports rights contract with the NFL (National Football League) is its absence of exclusivity. When in 2013 Verizon decided to renew its contract with the NFL for four more years for $1.0 billion, the company suggested that it was impressed by the outcome of the exclusive arrangement.
Under the 2013 agreement, as the previous one, Verizon had the exclusive rights to live-stream NFL games on mobile devices. The mobile exclusivity arrangement helped Verizon to attract more subscribers to its network and to improve its customer loyalty.
Article continues below advertisement
Postpaid phone churn rate below 0.90%
In 4Q17, Verizon's postpaid phone churn rate, a measure of subscriber defection, was 0.77%, marking the 11th consecutive quarter of its churn rate being below 0.90%.
But Verizon's new and expanded contract with the NFL did away with exclusivity. Therefore, every mobile subscriber in the United States (SPY), whether it be AT&T (T), T-Mobile (TMUS) or Sprint (S), will be able to access NFL games free of charge on Verizon's bill.
Opportunity to reach more people
Why did Verizon agree to vacate exclusivity in the renewed deal with the NFL, for which it's paying a reported $2.5 billion? While the new partnership took away mobile exclusivity from Verizon, it will allow the company to reach a larger audience than it did under the previous deal.
Under the renewed agreement, Verizon will stream live NFL games on Yahoo, Yahoo Sports, and the Go90 and NFL mobile apps. The ability to reach more people with NFL games should benefit Verizon's advertising business.