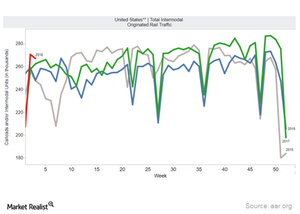 US Rail Freight Traffic Ran off the Track in Week 3 of 2018
By Samuel Prince

Updated
Week 3: US rail freight traffic
On January 24, 2018, the AAR (Association of American Railroads) published its weekly freight data for North American railroads. The weekly data pertained to the week ended January 20, 2018, or Week 3 of 2018.
As we're three weeks into 2018, we haven't seen a marked rise in the weekly freight data. In the last year, the overall railcar traffic was ~3.0% higher compared with 2016.
In the third week of 2018, carload traffic was down 7.6% and intermodal units (expressed in containers and trailers) were up 1.8%. US railroads (UNP) hauled ~241,300 carloads in Week 3 of 2018 compared with 261,100 carloads in Week 3 of 2017. Their intermodal traffic totaled ~267,000 units in 2018, up from ~262,300 units in the same week of 2017.
Article continues below advertisement
In the third week of 2018, two of the ten carload commodity groups reported a rise compared with the same week in 2017—forest products and petroleum and petroleum products. The commodity groups that registered a sharp decline compared with the same week in 2017 consisted of coal, nonmetallic minerals, and motor vehicles and parts.
For the first three weeks of 2018, US rail carriers recorded cumulative carload traffic of ~691,300 carloads, down 5.7% from the same week in 2017. They moved ~744,800 intermodal units, up 1.2% from last year. Combined US traffic for the first three weeks was ~1.4 million carloads and intermodal units, representing a year-over-year fall of 2.2%.
Canadian and Mexican railroads' freight volumes
Canadian (CP) railroads reported ~76,500 carloads for Week 3, down 4.1%. However, these railroads posted a 2.9% increase in their intermodal volumes.
Mexican (KSU) railroads registered ~21,500 carloads for the third week of 2018, a decline of 1.9% compared with the same week in 2017. Their intermodal volumes were also 1.8% lower at ~18,400 on a year-over-year basis.
In the next article, let's see which Class I railroad (IYJ) gained in terms of overall volumes in the third week of 2018. We'll start with Western US rail giant BNSF Railway (BRK.B).