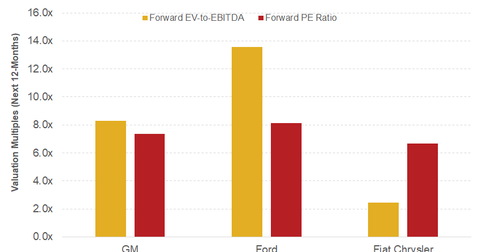 How US Automakers' Valuations Look after December 2017 Data
By Jitendra Parashar

Jan. 15 2018, Updated 10:30 a.m. ET
Analysts on US automakers
In the previous part of this series, we explored how Wall Street analysts are rating the two largest US auto companies, Ford Motor (F) and General Motors (GM). Currently, a higher percentage of Wall Street analysts seems to be favoring a "buy" for GM stock as compared to Ford. Consistent improvements in GM's profitability and its strategy to focus only on profitable regions could be some of the reasons for analysts' positive views on its stock. Now, let's compare the forward valuation multiples of these two US auto companies.
Article continues below advertisement
Valuation multiples for US automakers
We'll begin by looking at US auto companies' forward EV-to-EBITDA (enterprise value to earnings before interest, taxes, depreciation, and amortization) multiples. As of January 9, 2018, GM's EV-to-EBITDA was 8.3x, which was much lower than Ford's at 13.6x. These forward EV-to-EBITDA multiples were based on the expected next-12-month EBITDA of these auto giants.
Similarly, GM's forward PE (price-to-earnings) multiple was at 7.4x, lower than Ford's 8.1x. Among all mainstream automakers, Fiat Chrysler (FCAU) had the lowest EV-to-EBITDA multiple of 2.4x and forward PE multiple of 6.7x. Notably, valuation multiples of Italian luxury carmaker Ferrari (RACE) are typically much higher than these automakers in part because Ferrari's profit margins are significantly higher than these legacy automakers' profit margins. Also, Ferrari has a lower risk profile compared to other mainstream auto companies.
Key factors
In 2015 and 2016, US auto companies (IYK) saw good times due to record auto sales in the US. While total US auto sales witnessed a minor decline of 1.8% year-over-year in 2017, higher US truck and utility vehicle demand kept investor optimism alive. A consistent improvement in US truck sales in the coming months could move automakers' future earnings estimates upward, which should also drive their valuation multiple higher.
Next, we'll see how foreign automakers performed on Wall Street in December 2017.