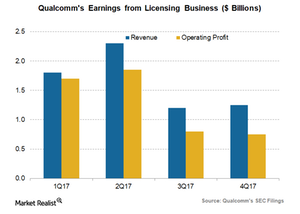 Understanding the Patent Lawsuit between Apple and Qualcomm
By Sophia Nicholson

Jan. 23 2018, Updated 12:31 p.m. ET
Apple and Qualcomm
Apple (AAPL) is engaged in new patent lawsuits with Qualcomm (QCOM). Apple alleges that Qualcomm's Snapdragon chips infringed eight of its patents related to managing battery life. In response, Qualcomm filed a patent lawsuit in US court against Apple, alleging that Apple used 16 of its patents without permission.
Article continues below advertisement
Revisiting the Apple–Qualcomm dispute
Apple's biggest supplier is Qualcomm, which it is facing in a legal battle over licensing. In January 2017, Apple sued Qualcomm globally for overcharging for using its technologies. In response, Qualcomm claimed that Apple breached its supply contract by sourcing some modems from Intel (INTC).
Apple is suing Qualcomm in the US for $1.0 billion for withholding royalty payments after Apple agreed to work with the Korean Fair Trade Commission. Apple also filed similar lawsuits in China and the United Kingdom against Qualcomm.
The Korean Fair Trade Commission imposed an $853.0 million fine on Qualcomm in December 2017 for undertaking anticompetitive practices. The US Federal Trade Commission also charged Qualcomm with engaging in anticompetitive practices in order to maintain a dominant position in the industry.
As a result, Qualcomm filed a lawsuit to ban iPhone sales in China (MCHI) (FXI), the US, and Germany. These lawsuits have significantly damaged Qualcomm's licensing earnings, as can be seen from the chart above.