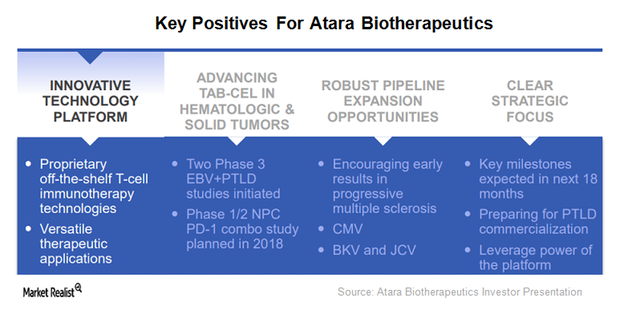 Understanding Atara Biotherapeutics' Licensing and Collaboration Agreements
By Kenneth Smith

Feb. 1 2018, Updated 9:03 a.m. ET
ATRA's agreement with MSK
In September 2014, Atara Biotherapeutics (ATRA) entered into an exclusive option agreement with Memorial Sloan Kettering Center (or MSK). Under the agreement, Atara Therapeutics had the right to acquire exclusive worldwide rights to three clinical-stage T-cell therapies from MSK.
For this consideration, Atara paid $1.25 million and issued 59,761 of its common shares to MSK. Atara exercised this option in June 2015 and paid MSK $4.5 million in return.
Article continues below advertisement
Agreement with QIMR Berghofer
Atara Biotherapeutics entered into a licensing and R&D (research and development) collaboration agreement with QIMR Berghofer in October 2015 and acquired an exclusive worldwide license to develop and commercialize allogenic cytotoxic t-lymphocyte (or CTL) therapy programs. In lieu of the license, Atara paid $3 million to QIMR Berghofer.
In an amendment to the agreement in September 2016, Atara obtained an exclusive, worldwide license to develop and commercialize additional CTL programs, along with the option to license the additional technology for a consideration of $3.3 million.
In December 2015, Atara Biotherapeutics discontinued its PINTA745 program and, in June 2016, returned the rights to PINTA745 and ATA842 programs to Amgen (AMGN). Atara had acquired these rights from Amgen (AMGN) in a previous licensing and collaboration agreement in September 2012.
Solid stock performance
In the past six months, Atara Biotherapeutics stock has risen nearly 100%, from ~$16 to $33.35 on January 22, 2018. By comparison, peers Merck (MRK), Celgene (CELG), and Amgen (AMGN) have generated returns of -2.2%, -1.38%, and 5.2%, respectively, in the past six months.
Notably, Atara Biotherapeutics makes up about 0.17% of the iShares Nasdaq Biotechnology ETF's (IBB) total portfolio holdings.
In the next and final part of this series, we'll take a closer look at Atara Biotherapeutics' recent financial performance.