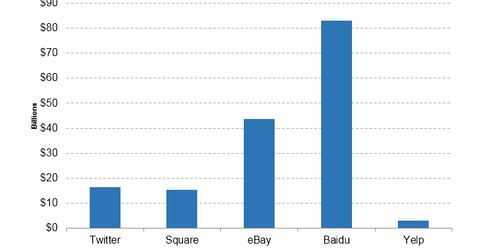 Twitter's Fundamental Analysis
By Neha Gupta

Updated
What's Twitter's economic value?
Twitter (TWTR) boasts a total economic or enterprise value (or EV) of $16.4 billion. In comparison, Square (SQ), eBay (EBAY), Baidu (BIDU), and Yelp (YELP), Twitters' peers in the Internet sector, boast enterprise values of $15.5 billion, $43.7 billion, $82.9 billion, and $3.2 billion, respectively.
How does Twitter's EV compare with its adjusted EBITDA (earnings before interest, tax, depreciation, and amortization) for the last 12 months?
The company has an EV-to-adjusted trailing-12-month EBITDA of 54.5x. Its EV-to-EBITDA multiple for the current year is projected to be 20.7x. Twitter's EBITDA margin for 2017 is 12%.
Looking deeper into Twitter's EV multiples reveals a trailing-12-month EV-to-sales multiple of 6.8x. The company's EV-to-projected sales multiple for next year is 6.4x. Its trailing-12-month EV-to-cash flow is 19.8x, and its trailing-12-month EV-to-free cash flow is 24.7x.
Article continues below advertisement
What amount of debt is Twitter carrying?
Twitter is carrying total debt of $1.77 billion, arrived at by combining its short-term debt of $82 million and its long-term debt of $1.69 billion. Considering that the company has total capital of $6.6 billion, its total debt-to-total capital ratio comes to 26.8%.
Looking at the company's debt in relation to its assets, equity, and EBITDA, we'll find that it has debt-to-asset, debt-to-equity, and debt-to-EBITDA ratios of 0.25, 36.7, and 5.9, respectively.
Inside Twitter's price and valuation multiples
Twitter's 2017 book value per share of $6.6 compares with its expected book value per share of $6.7 for 2018. Twitter shares are trading at a price-to-book value of 3.9x. The company's 2017 price-to-sales multiple of 7.8x closely compares with its estimated 2018 price-to-sales multiple of 7.9x.
Interest coverage ratio
Can Twitter easily pay interest on its outstanding debt? The answer lies in an examination of the company's EBIT on interest ratio, also called the interest coverage ratio, which in this case is -4.8x.