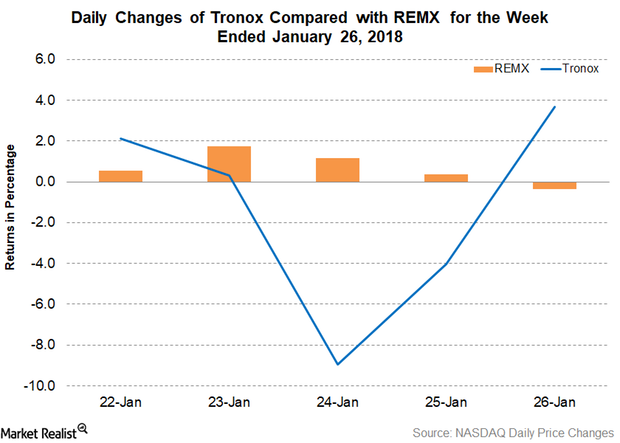 Tronox Gives Updates on Cristal Acquisition
By Peter Neil

Jan. 30 2018, Published 1:24 p.m. ET
Tronox files lawsuit
Tronox (TROX) believes that the US Federal Trade Commission (or FTC) is blocking its proposed takeover of Cristal's titanium dioxide business by not initiating the administrative process and allowing the transaction agreement to expire. The takeover needs to be completed by May 21, 2018, unless both parties agree to an amendment.
Tronox has filed a lawsuit in the United States District Court asking declaratory and injunctive relief to ensure that FTC doesn't block the acquisition. Richard Muglia, Tronox's senior vice president and general counsel, said, "Rather than follow its long-established practice to file suit in federal court to block an acquisition, the FTC has engaged in a strategy of delay by initiating an administrative process that offers no possibility of a timely resolution."
Article continues below advertisement
Update on Tronox's stock
The fear of the FTC blocking the acquisition gripped the stock. As a result, TROX declined by 7.2% and closed at $19.82 for the week ended January 26, 2018. The stock is trading 15.0% below the 100-day moving average price of $23.33. So far in 2018, TROX has fallen 3.4%. In comparison, Chemours (CC) rose 6.7%, while FMC (FMC) and Albemarle (ALB) fell 2.8% and 10.5%, respectively. The latest data indicates that TROX's short interest as a percentage of outstanding shares stood at 3.0%, a marginal decline from the previous data. TROX's 14-day RSI (or relative strength index) of 42 indicates that the stock is neither overbought nor oversold.
Investors can indirectly hold Tronox by investing in the Rare Earth/Strategic Metals ETF, which invested 5.0% of its portfolio in Tronox as of January 26, 2018.