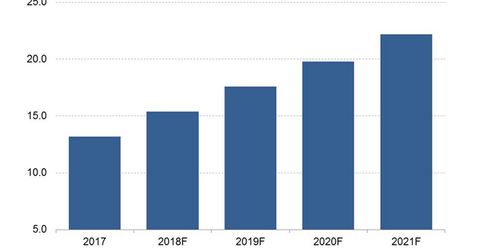 Tracing the Path of the Facebook Watch
By Neha Gupta

Updated
Watch launch expands Facebook's video ads push
In August 2017, Facebook (FB) launched its long-anticipated video hub, which it called Watch. Facebook noted that Watch would first be available in the US (SPY) before it rolls out overseas. A significant portion of Facebook's revenues is generated in overseas markets such as the UK (EWU), Germany (EWG) (EFA), and Japan (EWJ).
The launch of Watch saw Facebook dip its toe deeper into the waters of online video advertising. In the US, the online video advertising market is forecast by eMarketer to be worth $22.2 billion by 2021. The market was estimated to be $13.2 billion in 2017.
Article continues below advertisement
Outline for Watch promotion
Alphabet's (GOOGL) Google, Twitter (TWTR), and Snap (SNAP) are also making aggressive video pushes as they pursue online video advertising dollars. Google, which owns YouTube, has a head start in the online video advertising market.
Speaking at a Wells Fargo technology summit, Facebook's chief marketing officer, Gary Briggs, shared an outline of how the company planned to boost its Watch product. Facebook plans to promote Watch on its newsfeed ads. The company plans to leverage other marketing techniques that it has successfully used with new products to make more users aware of Watch and how to use the product.
Facebook features
According to a Wells Fargo survey, even some experienced Facebook users don't understand everything in terms of the app's features. These results suggest that for a new product like Watch, Facebook may need to increase its marketing efforts to increase its visibility and usage.
A breakthrough with Watch is expected to help Facebook tap a lucrative revenue stream in the online video advertising market.