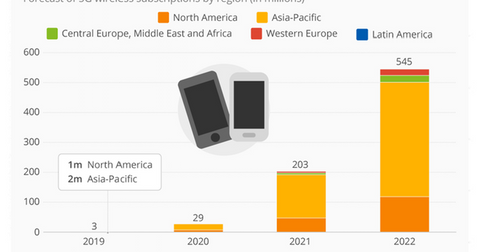 How the Top Telecom Players Are Doing in the 5G Race
By Ambrish Shah

Updated
5G technology
Recently, 5G (fifth-generation) technology has been generating some buzz in the telecommunications and media industry. The 5G network has the potential to significantly reduce latency, boost upload and download speeds, and improve network reliability.
Unlike 4G (fourth-generation) technology, 5G doesn't need towers but makes use of small-cell networks that can be mounted on street lights, utility poles, and other locations on the public property. According to the research by Statista, 5G wireless subscriptions are projected to reach 545 million by 2022.
Article continues below advertisement
In the 5G space, AT&T (T) is competing with peers Verizon Communications (VZ) and T-Mobile (TMUS). On January 4, 2018, AT&T announced that the company is expecting to be the first US carrier to launch mobile 5G service in a dozen cities before the end of 2018. But AT&T didn't offer specifics yet on vendors, costs, airwaves, or pricing.
According to a report from Bloomberg on January 4, 2018, "Verizon, T-Mobile and Sprint Corp. also intend to offer mobile 5G services but haven't elaborated on their plans, though Verizon expects to introduce fixed service this year in a bid to replace cable and phone modems."
AT&T and 5G
In the past, AT&T has attempted to outbid its rivals to gain spectrum advantage. In 2015, AT&T made the highest bid to acquire spectrum worth $18.2 billion during the AWS-3 spectrum auction conducted by the FCC (Federal Communications Commission).
By comparison, T-Mobile procured spectrum worth $1.8 billion, while Verizon procured spectrum worth $10.4 billion.