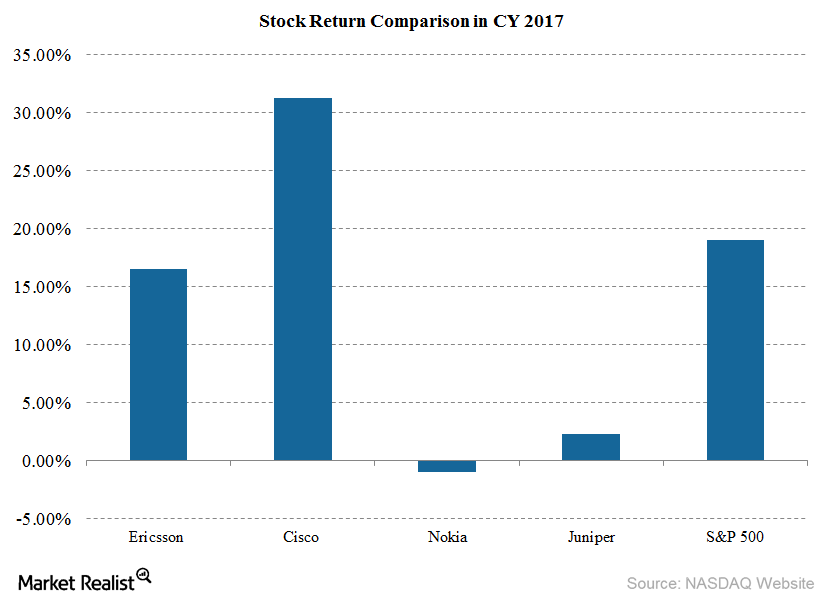 This Impacted Seagate in 2017
By Adam Rogers

Jan. 12 2018, Updated 9:40 a.m. ET
Seagate stock rose 16.7% in 2017
Seagate (STX) stock rose 16.7% in 2017. In the trailing-one-month period, the stock has generated returns of 13.6%. Seagate is now trading at $46, which is 50% above its 52-week low of $30.6 and 10% below its 52-week high of $50.96.
In the previous part of this series, we discussed how Western Digital (WDC) unsuccessfully bid to acquire Toshiba's (TOSYY) chip manufacturing business. This business was acquired by a consortium of firms including Bain Capital, Apple (AAPL), Dell Technologies (DVMT), and Seagate (STX).
Seagate expects this acquisition of Toshiba to help in product innovation to provide enterprises with storage solutions in the HDD (hard-disk drive) and SSD (solid-state drive) space.
Seagate beat the analyst EPS (earnings per share) estimates in three of the past four quarters. Seagate beat the analyst EPS estimates by 11.6% in fiscal 1Q18 (or CY 3Q17), 2.8% in fiscal 3Q17, and 27.8% in fiscal 2Q17.
Article continues below advertisement
Revenue and price target estimate
Analysts expect Seagate's revenues to fall 4.7% YoY (year-over-year) in fiscal 2Q18 (ended January 2018), 5.2% YoY in fiscal 3Q18, 3.8% YoY in fiscal 2018, and 1.7% YoY in fiscal 2019.
By comparison, the firm's EPS figure is expected to fall 14.5% in fiscal 2Q18, 11.5% in fiscal 3Q18, and 1.2% in fiscal 2018. Its EPS figure is estimated to rise, however, ~3% to $4.2 in fiscal 2019.
Of the 27 analysts covering Seagate, three recommend a "buy," while five recommend a "sell," and 19 recommend a "hold." The analysts' stock price target for Seagate is $40.73, with a median target estimate of $40. Seagate is thus trading at a premium of 13% to the median analyst estimate.