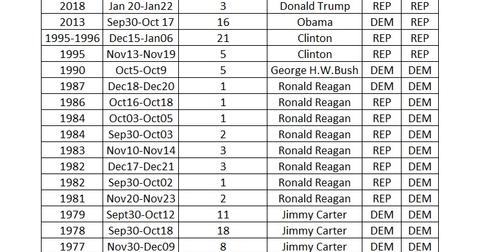 The US Government Could Shut Down Again in February
By Ricky Cove

Jan. 23 2018, Published 8:00 a.m. ET
Both parties agreed to short-term funding
On Monday, January 22, both Republicans and Democrats agreed to a short-term funding bill that would expire on February 8. This bill would give both parties sufficient time to negotiate immigration reform, which was the key demand from the Democrats, and allow the US government to function. Though this US government shutdown only lasted three days, chances are that we could face a similar situation in a few weeks if both parties fail to reach a bipartisan deal on immigration.
Article continues below advertisement
Understanding short-term funding
The short-term funding bill that was signed yesterday is only a postponement of the current logjam. A key reason that Democrats would have agreed to short-term funding is to avoid any loss of support from the public before the next mid-term elections in November, especially when President Trump is blaming the shutdown on the Democrats. The present short-term bill will keep the government open for another three weeks and will extend the Children's Health Insurance Program for another six years.
Market reaction to the short-term deal
After news of the short-term deal, indexes in Asia (VPL) advanced on Tuesday, and the overnight futures of the US indexes (SPY) (QQQ) indicated further gains. The US dollar (UUP) posted minor gains in overnight trading and US bond (BND) yields cooled off by a few basis points after the shutdown was lifted.
In the next part of this series, we'll explain the economic cost of the US government shutdown and how it could impact Treasury issuance and the proposed rate hikes by the US Federal Reserve.