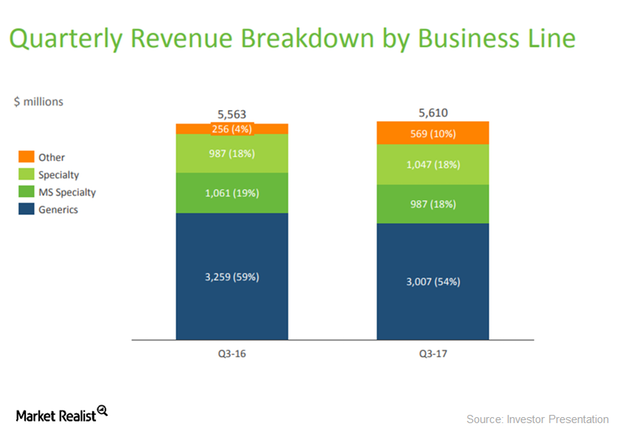 Teva's Launch of Generic Version of Reyataz Boosts Stock
By Sarah Collins

Jan. 11 2018, Updated 7:34 a.m. ET
Overview
On December 27, 2017, Teva Pharmaceuticals (TEVA) announced the exclusive launch of the generic version of Reyataz, which is a registered trademark of Bristol-Myers Squibb (BMY) in the United States. The stock registered a share price gain of ~1% on the day. The iShares Core MSCI EAFE ETF (IEFA) gained ~0.24% on the day. TEVA makes up ~0.10% of IEFA's total portfolio.
The generic version of Reyataz is Teva's fifth generic drug offering in the area of HIV-1 infection treatment. In fiscal 3Q17, the total generic products sales contributed approximately 54% to the company's total sales as compared to 59% of the generics sales contribution in fiscal 3Q16. However, the struggling behemoth is showing some signs of a gradual recovery with a slew of recent launches, which we'll discuss later in this series.
Article continues below advertisement
What is Reyataz?
Reyataz is BMY's brand-name Atazanavir sulfate capsules, which are a protease inhibitor. They are used for the treatment of HIV-1 infection for patients above six years old and over 15 kilograms. It is indicated for use in combination with other ARV (antiretroviral) drugs. As of October 2017, according to IMS data, Reyataz generated annual sales of approximately $402 million in the United States.
Gilead Sciences (GILD) is the leading manufacturer of HIV drugs. Merck (MRK) also provides anti-HIV treatment and is one of the major competitors of Teva and Gilead Sciences.
Teva's generic medicine market position
As per Teva, one out of seven generic prescriptions in the United States is a Teva product. The company is the leading generic drug manufacturer and has the largest FDA-approved generic product portfolio in the market, which includes about 600 available generic drugs. The company has more than 100 first-to-files in the United States. Since March 2013, the United States has been following FTF (first-to-file) right-to-patent system, which provides priority to the applicant who first files for the protection of a product, irrespective of who invented the product.
In fiscal 2017, Teva expects to generate new sales of approximately $400 million from new product launches.