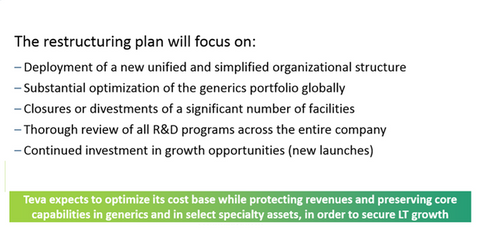 Teva Pharmaceutical: Still Focused on New Product Launches
By Sarah Collins

Updated
Teva's core strength
The Vanguard Total International Stock ETF (VXUS) holds 0.09% of its total portfolio in TEVA stock. Teva Pharmaceutical Industries (TEVA) has its biggest value chain in the market as the company's core strength, which has helped it establish itself as the leading generics pharmaceutical company in the world. The company's value chain encompasses early development CMC (chemistry, manufacturing, and controls), which is part of the new pharmaceutical product application to the FDA (U.S. Food & Drug Administration); API (Active Pharmaceutical Ingredient) manufacturing; and finished manufacturing of any company around the world. The company plans to establish optimization and efficiency improvements around the delivery of its products, thus trying to ensure better margins and operating profits going forward.
Article continues below advertisement
Teva's strong product portfolio
With the acquisition of Actavis, Teva has a combination of the biggest first-to-file generics and biosimilars portfolio in the United States. The company expects to generate significant new revenue from the portfolio going forward. It plans to focus on the high-growth and opportunity markets for investment in R&D (research and development). It has had strong product portfolio and R&D programs in the neurotechnology & CNS (central nervous system) market. The company plans to slim down its product portfolio in these areas.
Teva also plans to support its recent launch of Austedo in April 2017. Austedo tablets are approved for the treatment of chorea associated with Huntington's disease. It is the first new treatment for this condition in about a decade.
Another promising drug the company is looking forward to is fremanezumab. Teva anticipates receiving US approval for the product by mid-2018, followed by the product's launch. The drug is an anti-CGRP (calcitonin gene-related peptide) monoclonal antibody that will be used for the preventive treatment of migraines. The product has received fast track designation by the FDA (U.S. Food & Drug Administration) for the prevention of cluster headache. Fremanezumab is backed by successful clinical trials and is expected to be a promising product, estimated to generate significant demand in the non-opioid pain relief market segment.
Erenumab is another CGRP-targeting drug for migraine treatment being developed by Amgen (AMGN) and Novartis (NVS). Another version of the drug is being developed by Eli Lilly (LLY).