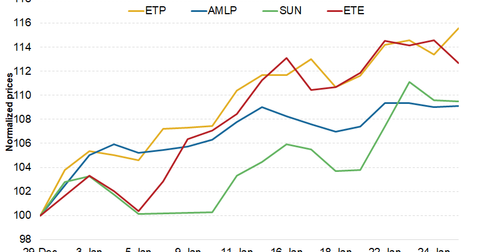 SUN's Repurchase Agreement Could Impact ETP's Stock Performance
By Kurt Gallon

Updated
Sunoco's repurchase agreement
Sunoco LP (SUN), the downstream MLP subsidiary of Energy Transfer Equity (ETE), announced a share repurchased agreement with Energy Transfer Partners (ETP). Sunoco agreed to repurchase 17,286,859 Sunoco common units owned by Energy Transfer Partners, which is Energy Transfer Equity's midstream subsidiary. In return, Sunoco has agreed to pay $540 million in cash.
Sunoco has agreed to redeem all of its Series A Preferred Units held by Energy Transfer Equity for $312.6 million. Energy Transfer Equity and Energy Transfer Partners are expected to use the proceeds from the above transactions to repay debt.
Article continues below advertisement
Stock performance
Energy Transfer Partners' repurchase agreement with Sunoco will likely reduce the partnership's distribution income, which would result in a lower distribution cash flow and distribution coverage. The transaction is expected to bring down Energy Transfer Partners' leverage, which has been its top priority in recent quarters. Energy Transfer Partners announced the sale of its compression business to USA Compression Partners (USAC) as part of the balance sheet strengthening measure. The transaction, valued at $1.8 billion, is expected to close in 1H18. For details on the deal, read ETP to Sell Compression Business to USAC.
The stock repurchase transaction is expected to boost Energy Transfer Partners' stock performance, which has already gained 15.6% since the beginning of the year. Despite the recent gains, Energy Transfer Partners has lost ~20% during the past year.
Similar to Energy Transfer Partners, Energy Transfer Equity is expected to experience lower distribution income after preferred unit redemption. However, the expected distributable cash flow growth from the expiration of IDR subsidies, equity issuance at Energy Transfer Partners, and distribution growth at Energy Transfer Partners is expected to more than offset the declines from the redemption transaction. The transaction is expected to bring down Energy Transfer Equity's leverage. Energy Transfer Equity has gained 12.7% since the beginning of the year.
Article continues below advertisement
Sunoco, which hasn't been investing aggressively in growth projects, is expected to use the excess cash to fund preferred unit redemption and common unit repurchase. As a result, Sunoco's distributable cash flow per unit and earnings per unit are expected to increase. The transaction is expected to be beneficial in the short term and limit growth in the long term. The transaction doesn't seem to have much of an impact on Sunoco's stock performance. It has gained 9.5% in 2018.
Series overview
In this series, we'll discuss whether Energy Transfer Partners can gain upward momentum after recent balance sheet strengthening measures. We'll discuss Energy Transfer Partners' technical indicators and price forecast. We'll also look at analysts' recommendations for the partnership.