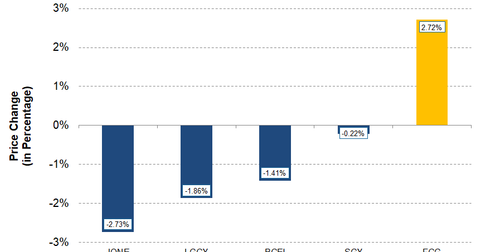 These Stocks Are the Biggest Upstream Losers This Week
By Nicholas Chapman

Updated
Upstream losers
Having looked at the stocks that rose, we will now move on to the losing stocks from the oil and gas production—or upstream—sector in the US for the current week starting January 2, 2018. To compile the list of top upstream losing stocks, we have used oil and gas producers with market capitalizations of greater than $100 million and an average trading volume greater than 100,000 shares last week.
Article continues below advertisement
Jones Energy: Top Loser
In the week starting January 1, 2018, Jones Energy (JONE) fell from $1.10 to $1.07, a decrease of ~3%. On Tuesday, Jones Energy (JONE) fell ~3% and found support at its 50-day moving average. JONE tried to bounce back from its 50-day moving average during the trading session. However, it failed to stay at higher levels and closed the day at its 50-day moving average. As of January 2, 2018, Jones Energy is trading at $1.07, whereas its 50-day and 200-day moving averages stand at $1.07 and $1.56, respectively.
On December 29, 2017, Jones Energy announced that it received a non-compliant notice about the listing standards from NYSE (New York Stock Exchange). Per Jones Energy's press release, NYSE issued the non-compliant notice because "the price of the Company's Class A common stock over a period of 30 consecutive trading days had fallen below $1.00 per share, which is the minimum average closing price per share required to maintain a listing on the NYSE."
In the list of top losers, Jones Energy (JONE) was followed by Legacy Reserves (LGCY), Bonanza Creek Energy (BCEI), and Stone Energy (SGY). LGCY, BCEI, and SGY are down ~1.9%, ~1.4%, and ~0.2%, respectively.
On December 28, 2017, Bonanza Creek Energy (BCEI) announced the termination of its previously announced merger agreement with SandRidge Energy (SD). As a part of the termination agreement, SandRidge Energy will pay $3.7 million to BCEI.
Overall, the First Trust Natural Gas ETF (FCG), which represents an index of stocks across the natural gas exploration and production industry is rising this week and up by ~2.7%. In comparison, the SPDR S&P 500 ETF (SPY) increased by ~0.7% this week.