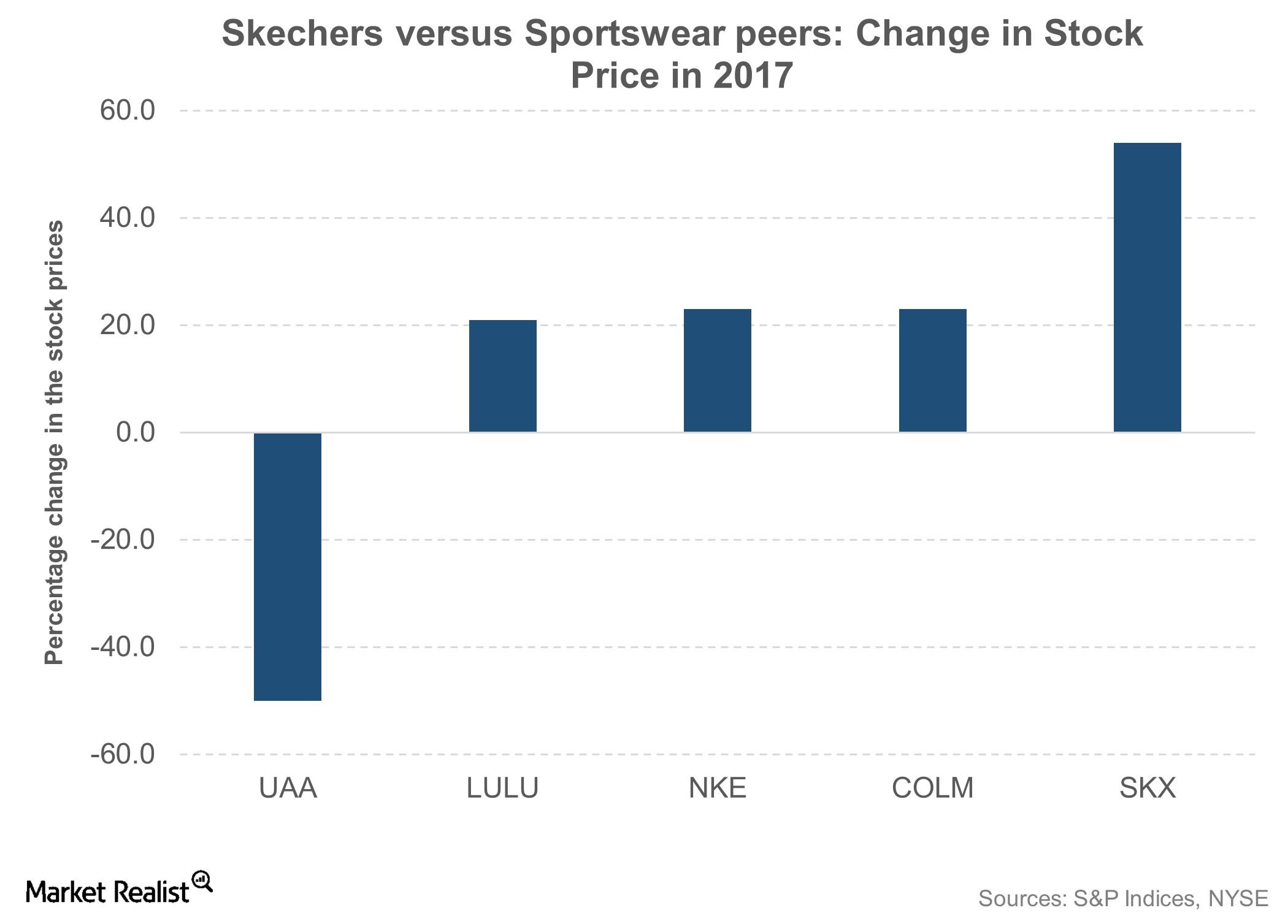 Skechers, the Top-Performing Sportswear Stock of 2017
By Sonya Bells

Jan. 24 2018, Updated 7:32 a.m. ET
Skechers was among the top-performing sportswear stocks in 2017
The California-based Skechers (SKX) was among the best-performing sportswear stocks in 2017. The footwear company gained 54% during the year. This growth was driven by the company's better-than-expected financial performance and positive analyst stances during the year.
In comparison, competitors Nike (NKE) and Lululemon Athletica (LULU) gained 23% and 21%, respectively, while Under Armour (UAA) plunged 50%.
Article continues below advertisement
SKX's recent financial performance
For the most recent quarter (which ended in September 2017), Skechers reported a 40% jump in earnings per share, driven by a 16% increase in sales. This growth compares to a 4.5% decline in Under Armour's sales and a 0.2% increase in Columbia Sportswear (COLM) sales.
Unlike most sportswear players, Skechers is doing reasonably well even in the US wholesale segment—which, according to analysts, is likely to see a further recovery.
"We believe a recovery in the company's domestic wholesale business is underway. While wholesale revenue in the U.S. was up just 1.4% in 3Q17, we believe it will improve driven by an improvement in U.S. retail comps. In spite of a difficult retail environment, Skechers appears to have gained momentum in the U.S," commented Argus Analyst John Staszak in December.
However, SKX's margins have deteriorated over the last couple of quarters. The main reason for this decline has been the company's ongoing international investments, which have resulted in higher costs. SKX reported a trailing trailing-12-month operating margin of 8.6%, which was lower than the margins of competitors Lululemon Athletica (LULU) at 14.8% and Nike (NKE) at 12.8%.
How Wall Street rates Skechers at the start of 2018
Skechers is covered by 11 Wall Street analysts, who jointly rate the company a 1.5 on a scale of 1 ("strong buy") to 5 ("sell"). SKX is rated better than the peers we've discussed in this series.
All the analysts that cover the company recommend buying its stock. There's no "hold" or "sell" rating on the company.
Cowen & Co. recently named Skechers as a top idea for 2018. Analyst John Kernan said in a client note, "The breadth and depth of the Skechers assortment and the brand's global reach, category expansion opportunities and consumer perception is underappreciated (based on relative valuation to peers)."
ETF investors seeking to add exposure to SKX can consider the First Trust Consumer Discretionary AlphaDEX Fund (FXD), which invests ~1.4% of its portfolio in the company.