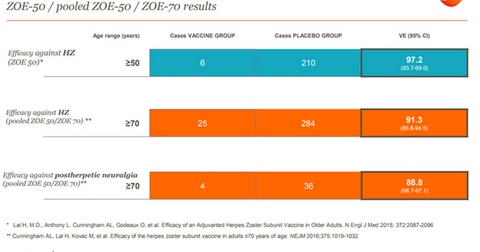 Shingrix Could Be a Long-Term Growth Driver for GlaxoSmithKline
By Margaret Patrick

Updated
Shingrix FDA approval
On October 20, 2017, the U.S. Food and Drug Administration (or FDA) approved GlaxoSmithKline's (GSK) Zoster vaccine recombinant and adjuvanted vaccine, Shingrix, as a preventive measure against herpes zoster infection of shingles for adults over 50 years. This approval was based on solid efficacy, safety, and immunogenicity demonstrated by this non-live, recombinant subunit vaccine phase three program consisting of around 38,000 people. Shingrix managed to demonstrate more than 90% efficacy in preventing Shingles and subsequently postherpetic neuralgia (or PHN) across all age groups.
Article continues below advertisement
GlaxoSmithKline is currently involved in discussing reimbursement for Shingrix with multiple payers in the US. The company also plans to focus on creating awareness among adults above 50 years of age, physicians, and pharmacies, for Shingrix. GlaxoSmithKline accounts for around 2.5% of the BLDRS Europe Select ADR Index Fund's (ADRU) total portfolio holdings.
ACIP recommendation
On October 25, 2017, GlaxoSmithKline announced that the US Centers for Disease Control and Prevention's (or CDC) Advisory Committee on Immunization Practices (or ACIP) has recommended Shingrix as a preferred vaccine to prevent shingles infections in adults aged 50 or more over Merck's Zostavax. Thus, GlaxoSmithKline estimates that around 20 million people in the US who have been previously vaccinated with Zostavax are eligible for revaccination with Shingrix. Further, approximately 42 million people between 50 years and 59 years and around 40 million people above 60 years of age and who have never received shingles vaccines are also eligible for Shingrix vaccination.
In the next article, we will discuss GlaxoSmithKline's oncology strategy in greater detail.