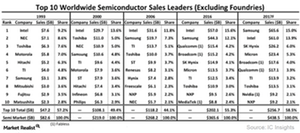 How the Semiconductor Industry Performed in 2017
By Puja Tayal

Jan. 9 2018, Published 9:33 a.m. ET
Semiconductor market
2017 was a remarkable year for the semiconductor industry (SMH), as its top three end markets, PC (personal computers), mobile, and data center, performed better than they did in 2016. 2017 also saw the emergence of much bigger and broader end markets as the world moves towards AI (artificial intelligence) and IoT (Internet of Things).
Some of the upcoming markets are autonomous driving and industrial IoT, which could bring strong demand for memory solutions, especially nonvolatile memory, and high-performance processors that can support AI.
Article continues below advertisement
Memory market
In 2017, the memory market outperformed the entire semiconductor market. Semiconductor memory stocks rose 80.5%, whereas semiconductor stocks rose 35% in 2017. The demand for mobile and server DRAM (dynamic random access memory) overtook supply, which caused memory prices to increase significantly.
DRAM
The three major players in the DRAM market, Samsung (SSNLF), SK Hynix, and Micron Technology (MU), benefitted the most in the semiconductor space. According to DRAMeXchange, DRAM revenue rose 16.2% sequentially to a record $19.2 billion in 3Q17. Samsung's DRAM revenue rose 15.2% to $8.8 billion, SK Hynix's DRAM revenue rose 22.5% to $5.5 billion, and Micron's DRAM revenue rose 21% to $4.0 billion.
IC Insights expects the three DRAM suppliers, which govern more than 95% of the DRAM market share, to make it to the list of top five semiconductor companies by revenue in 2017. Gartner's principal analyst, Mika Kitagawa, expects the DRAM shortage to continue until the end of 2018, which means Samsung might overtake Intel (INTC) to become the largest semiconductor company by revenue in both 2017 and 2018.
Article continues below advertisement
NAND
DRAMeXchange's data showed that NAND revenue rose 14.3% sequentially to a record $15 billion in 3Q17. While pricing was flat, strong seasonal demand for mobile NAND and SSDs (solid-state drive) drove revenue to a new high. During the quarter, Samsung, Toshiba (TOSBF), and SK Hynix reported the highest sequential growth of above 19.5%, 18.1%, and 15.4%, respectively.
IHS Markit director for NAND flash technology research, Walter Coon, predicted the NAND market would soften at the end of 2017 and the start of 2018 as seasonal demand cools, whereas 3D NAND production continues to increase.
The strong memory prices might not last long, as the market will likely achieve demand-supply equilibrium eventually because memory makers are increasing capacity. If memory chip makers maintain supply discipline, they can continue to make profits for the longer term. The memory demand will likely only grow as we move towards IoT. Semiconductor Intelligence expects a moderate correction in memory prices but not a significant decline in 2018.
Next, we will look at the demand and supply forces of the memory market.