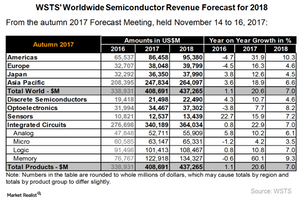 The Semiconductor Industry: Key Developments in 2018
By Puja Tayal

Updated
Semiconductor industry outlook for 2018
It was a growth year for the semiconductor industry (SMH) in 2017. Semiconductor earnings were driven by increasing memory prices, a boost in cryptocurrency, increasing adoption of GPUs (graphics processing units) by data centers and cloud companies for AI (artificial intelligence) tasks, and the growing popularity of e-sports.
World Semiconductor Trade Statistics (or WSTS) expects global semiconductor revenue to rise 7% YoY (year-over-year) in 2018.
Article continues below advertisement
Semiconductor trends to watch in 2018
Although the semiconductor industry may not be able to replicate the double-digit growth it saw in 2017, it could continue to grow in 2018. Let's look at some major developments that could positively impact the semiconductor industry.
US corporate tax cut
The US Congress passed its tax reform bill in December 2017, which could make US companies more competitive with their overseas competitors. The bill reduced the corporate tax rate in the United States from 35% to 21%. That could incentivize companies that invest largely in research and development and have overseas profits. The semiconductor industry welcomed the bill, which marks the first tax reform in 30 years.
Article continues below advertisement
Artificial intelligence
Another major development could be the adoption of AI (artificial intelligence) technology across various verticals. Handset makers Apple (AAPL) and Samsung (SSNLF) have already brought AI functionality to smartphones. The drone market is growing, and 2018 may see the commercial rollout of AI-powered drones throughout the world.
Many industries, from construction to healthcare, could adopt AI technology to improve efficiency and reduce costs. That could boost the earnings of Intel (INTC), Nvidia (NVDA), and Cypress Semiconductor (CY).
The 10 nm node
The third major development could be the shift to a 10 nm (nanometer) node by Intel, which could put it back in a technological advantage. Taiwan Semiconductor Manufacturing (TSM) and Samsung could also shift to a 7 nm node, but that would be equivalent to Intel's 10 nm node. The move to a smaller node could bring significant cost savings and improve the performance of the chips.
Article continues below advertisement
Autonomous vehicles
The fourth major development for the semiconductor industry is the onset of level-three autonomous vehicles on the road. Google's (GOOG) Waymo plans to commercially launch its autonomous ride-sharing service as early as 2018. Nvidia expects its Drive PX 2 platforms that deliver level-three autonomy to power some models of Tesla (TSLA) and Toyota (TM). There could be some strong growth in Intel's and Nvidia's automotive revenue in 2018.
5G and AR/VR
The semiconductor industry could also come closer to the deployment of 5G (fifth-generation) technology. Although that may not generate any revenues in 2018, it could create significant growth opportunities for the future. Even AR/VR (augmented reality/virtual reality) adoption could pick up in the industrial as well as gaming space as companies such as Advanced Micro Devices (AMD) work to make wireless headsets more user-friendly.
It remains to be seen how the above five trends could develop in 2018 and how they might impact semiconductor stocks.