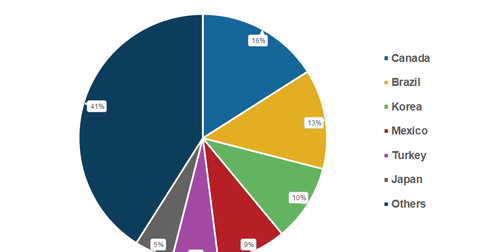 Section 232 Imports Probe Could Fall Short of Expectations
By Mohit Oberoi, CFA

Updated
Section 232 probe
As we noted previously, the Section 232 imports probe's findings are expected this month. The findings could be a key driver for steel companies like U.S. Steel Corporation (X) and AK Steel (AKS) in 2018. Notably, US steel producers see "unfairly traded" steel products as their biggest challenge.
During its 1Q17 earnings call, Mark D. Millett, Steel Dynamics' CEO (STLD), called on service centers to be a "little more patriotic than they are." In other words, he was calling on service centers to order steel from domestic producers instead of buying it from steel companies overseas. Cliffs Natural Resources' (CLF) CEO Lourenco Goncalves went a step further and called for steel importers to be jailed.
US steel producers had high expectations from the Section 232 imports probe. However, it appears that they toned down their expectations. In this part, we'll see why the Section 232 imports probe could fall short of the expectations.
Article continues below advertisement
Trade frictions
Any trade action under the Section 232 steel imports probe would have to include countries like Japan, South Korea, and Germany in order to be effective. The European Union has already suggested that it would "retaliate" if the US goes ahead with trade actions under the Section 232 probe. Any stringent action against "friendly countries" might make the US look even more isolationist.
Domestic factors
The Trump administration might also have to consider the impact of higher steel tariffs on the downstream steel industry. According to observers, the downstream steel fabrication industry generates more employment than upstream steel mills (NUE). Higher US steel prices would dent domestic fabricators' competitiveness.
We could still see some action under the Section 232 probe, which we'll discuss in the next part.