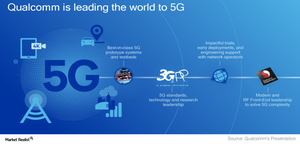 The Role of 5G in Internet of Things Adoption
By Puja Tayal

Updated
Why 5G?
The semiconductor industry could see the ramp-up of AI (artificial intelligence) technology and IoT (Internet of Things) technology in 2018. It could also see the onset of level-three autonomous vehicles. These developments will need the support of strong connectivity and high graphics to make the optimum use of their capabilities.
It is 5G (fifth-generation) technology that could connect multiple devices to the Internet simultaneously while reducing network latency significantly. That could enable IoT devices to smoothly run applications such as 4K video streaming, real-time remote control, and haptic communications, which require high bandwidth.
Article continues below advertisement
Key players in 5G
The commercial deployment of 5G technology is expected to begin in 2020. The technology is expected to accelerate through 2025. Qualcomm (QCOM) is at the forefront of the 5G revolution. It has also unveiled its first 5G modem for smartphones. Intel (INTC) follows with its own 5G modem.
Qualcomm is working on getting its 5G technology approved as an industry standard in order to earn royalty fees by licensing its technology to other companies. Broadcom (AVGO) is looking to acquire Qualcomm at any cost in order to tap the 5G opportunity.
How could 5G boost adoption of IoT and VR?
It is 5G technology that could accelerate the adoption of AI-based IoT devices by making them more useful. It could also enable IoT users to stream 4K videos or remotely control a device in real time without tethering.
VR (virtual reality) is another growth driver for graphics cardmakers Nvidia (NVDA) and Advanced Micro Devices (AMD). Global Foundries' chief technology officer Gary Patton expects the AR/VR (augmented reality/virtual reality) market to grow from $4 billion in 2016 to $131 billion by 2025.
However, the adoption of VR is slow since VR headsets are heavy, and the wires hinder the movement of users. There's also not enough VR content, and the content that is available is not fully immersive. It is 5G technology that could support a fully immersive experience by bringing haptic capabilities to many applications. Haptic recreates the sense of touch for the user by applying forces, vibrations, and motions.
Research and Markets forecasts the base market for VR to reach 978 million users by 2026 with consumer VR forming a bigger market than enterprise and industrial VR.
Overall, 2017 saw the onset of multi-year technology transition to AI and IoT, and 2018 could witness the growth of these technologies. The adoption of these technologies could also increase in 2019 and 2020.