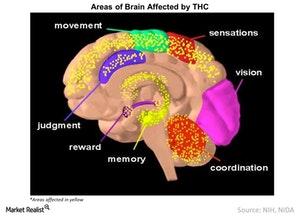 Gauging Marijuana Risk: The Potential Investment Blowback
By Adam Jones

Jan. 12 2018, Updated 2:55 p.m. ET
Risks
Investing in the marijuana industry—at least in its current stage in the US—certainly comes with its own set of risks.
In the preceding part of this series, we discussed how the marijuana plant contains CBD (cannabidiol), which is used for medicinal (XLV) purposes. The plant also contains tetrahydrocannabinol, otherwise known as THC. THC has similar properties as CBD, but the main difference is that THC is psychoactive or has the potential to intoxicate or enhance the user's mood.
Article continues below advertisement
Psychoactive properties
Given its psychoactive properties, the effect of using cannabis include altered senses, moods, memory, and sense of time. It can also impair body movement and is believed to cause hallucinations in some cases, according to the NIH (National Institute on Drug Abuse).
Like any other psychoactive drug, using cannabis before reaching adulthood has been found to slow brain development and cause irreversible damage. According to the NIH, more than 11 million young adults between the ages of 18 to 25 used marijuana in 2014 in the US, and this could be why regulators in the US are so concerned about legalizing marijuana.
The legalities
Marijuana is still a Schedule 1 drug under the Controlled Substance Act in the US. This list also includes LSD, heroin, and ecstasy. Schedule 1 drugs are considered to have "no currently accepted medical use." This means that while some states have legalized the use of marijuana, it's still illegal to use, possess, or sell marijuana under the US federal law.
However, there are exceptions. Companies such as AbbVie (ABBV)(VTI), Insys Therapeutics (INSY), and Corbus Pharmaceuticals (CRPB) have focused on the medical side of marijuana.
To add to the complication, US Attorney General Jeffrey Sessions recently rescinded the Cole Memo, which had been directing federal prosecutors to look the other way in states where marijuana had been voted to become legal. With this memo rescinded, it may bring more trouble for marijuana-related business in states.
Still, despite all these issues, Canada is set to legalize marijuana at the federal level in coming months. We'll discuss this further in the next part of this series.