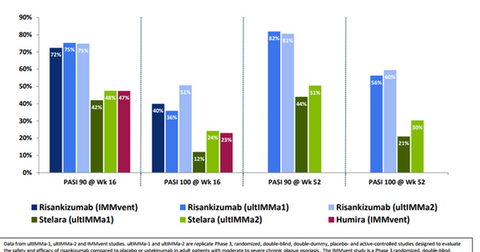 Why AbbVie's Risankizumab Could Become a Transformative Therapy in Immunology
By Margaret Patrick

Updated
Risankizumab clinical trial data
On March 7, 2016, AbbVie (ABBV) entered into a global collaboration with Boehringer Ingelheim for the development and commercialization of Risankizumab. On October 26, 2017, AbbVie announced positive results from three pivotal phase-3 trials that compared the efficacy of investigational interleukin-23 (IL-23) inhibitor, risankizumab, with standard biologic therapies, Johnson & Johnson's (JNJ) Stelara (ustekinumab) and Humira (adalimumab) in moderate to severe chronic plaque psoriasis indications.
After 16 weeks of treatment, a 150 mg dose of Risankizumab managed to demonstrate significant skin clearance, measured through metrics such as 90% improvement in the psoriasis area and severity index and static physician global assessment score of clear or almost clear.
Notably, AbbVie accounts for 0.58% of Vanguard Total Stock Market ETF's (VTI) total portfolio holdings.
Article continues below advertisement
ultIMMa-1, ultIMMa-2, and IMMvent trials
In two of AbbVie's (ABBV) pivotal phase-3 studies, ultIMMa-1 and ultIMMa-2, 75% of patients on Risankizumab reached PASI90 after 16 weeks of treatment—significantly higher than the 42% and 48% of patients on Stelara reaching PASI90, in ultIMMa-1 and ultIMMa-2 trials, respectively.
Risankizumab also managed to demonstrate durable responses related to skin clearance compared with Stelara.
The robust efficacy data coming from head-to-head studies are expected to help Risankizumab prove to be a major immunology asset for AbbVie going forward. The drug could also pose strong competition to other immunology drugs like Pfizer's (PFE) Xeljanz and Amgen's (AMGN) Enbrel.
In the next part, we'll discuss the label expansion strategy for Risankizumab in greater detail.