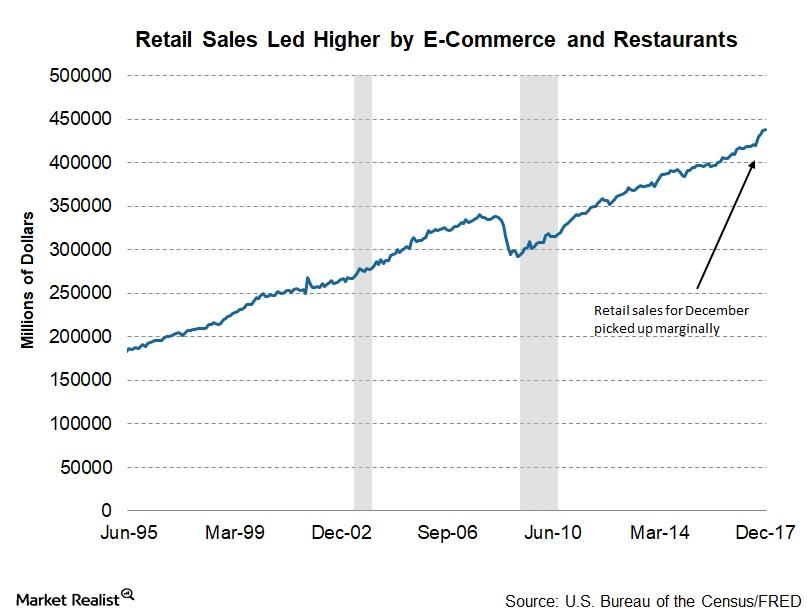 Retail Sales Had the Best Year since 2012
Retail sales at a five-year high
The US Census Bureau releases a monthly report on retail sales in the US. According to the notes on the official website, the Census Bureau conducts an advance monthly survey of retail trade and food services companies. The report is an early estimate of the monthly sales for the surveyed month.
According to the latest report released on January 12, advance estimates of US retail (XRT) and food services for December 2017 were $495.4 billion—an increase of 0.4% from the previous month's estimate of $493.6 billion. For 2017, the total sales have increased 4.2%—compared to 2016.
Article continues below advertisement
Which sector contributed to growth in retail sales?
According to the December retail sales report, gains were spread across the industries. Of the 13 major categories surveyed, nine reported gains in sales. The retail sales growth in December was 0.4%—below November's growth rate of 0.9% and much lower than September's spike of 2% when consumers replaced vehicles (CARZ) and homes after the hurricanes. Core sales, which exclude energy (XLE), building materials, and auto sales, increased 0.4% in December and 5.4% in 2017.
Internet and mail-order sales (IBUY) led the retail sales growth in December. They have increased their share of retail sales to 11.2%—the highest level ever. There were also higher sales at restaurants and bars.
Takeaway from retail sales
Retail sales (RTH) have posted impressive growth in 2017. However, the growth is still below the long-term average. After the recession, Internet sales continued to increase. Internet sales pose a great threat to brick and mortar retail. There are many retail groups across the US that are expected to trim their number of stores. There will likely be consolidation with the retail groups remaining afloat in the near term.
All of the economic data discussed in this series, although mixed, indicate that the US economy is on a right track. The economy is expected to improve more in the year ahead.