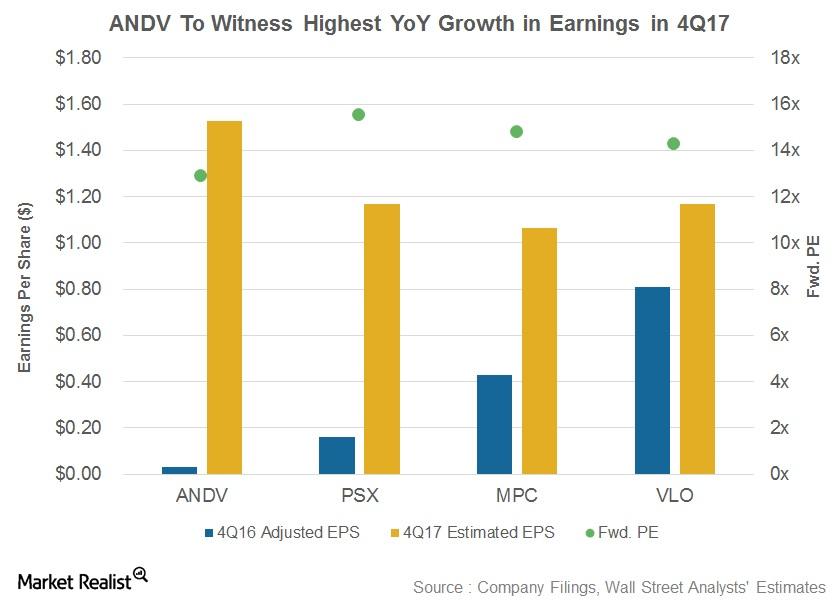 Refiners' 4Q17 Estimates: Ranking MPC, VLO, PSX, ANDV on Earnings
By Maitali Ramkumar

Dec. 4 2020, Updated 10:53 a.m. ET
Refiners' 4Q17 estimates and rankings
In this series, we'll be sorting refining stocks in terms of Wall Street analysts' earnings expectations for the fourth quarter of 2017. The four refining companies we're considering are Marathon Petroleum (MPC), Andeavor (ANDV), Valero Energy (VLO), and Phillips 66 (PSX). We'll rank them according to their estimated YoY (year-over-year) growth in EPS (earnings per share) in 4Q17. We'll also analyze where these stocks stand in terms of valuations just ahead of earnings.
If we rank these refining stocks on their likely YoY growth in EPS in 4Q17, then Andeavor (ANDV) occupies the top slot. ANDV is expected to post a huge rise in earnings, around 51.0x YoY growth. Its recent acquisition of Western Refining is expected to significantly boost its earnings.
In last place is Valero Energy (VLO), in spite of the fact that it's expected to post 44% YoY growth in EPS. Phillips 66 (PSX) and Marathon Petroleum (MPC) rank second and third in terms of the expected rise in earnings in 4Q17.
Article continues below advertisement
Wall Street analysts expect rising earnings for these companies probably because refining margin indicators have risen YoY in 4Q17, pointing to better refining earnings. Although the indicators have declined from the highs in 3Q17, they are still higher than 4Q16 levels. In 3Q17, refining margin indicators had an unprecedented rise, led by Hurricane Harvey. In the last quarter of 2017, the US corporate tax rate was cut from 35% to 21%. That could lead to a rise in refiners' net incomes and cash flows.
Valuations
If we consider these companies' valuations, ANDV, which occupies the top slot, is the lowest in terms of its forward PE (price-to-earnings) ratio. PSX, which occupies the second spot, has the highest valuation. It has a diversified earnings model with a focus on stable midstream and marketing segments to shield its refining and chemicals segments' volatility. MPC has the second-highest valuation. It's in the midst of a reorganization plan that could unlock huge potentially hidden value in the company. We'll look at valuations later in the series.
In the rest of this series, we'll look at individual companies' 4Q17 estimated earnings, starting with ANDV.