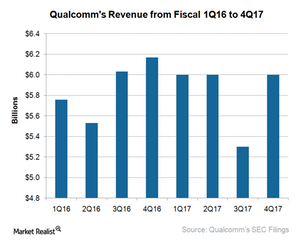 Qualcomm, Broadcom Benefit from Strong Demand for Wireless Chips
By Puja Tayal

Jan. 3 2018, Updated 7:34 a.m. ET
Wireless communications segment
Semiconductor companies reported strength in 2017 as growth revived in almost all end markets. According to IHS Markit, this strong growth was largely driven by strong demand in the memory, wireless communications, and data processing spaces.
The research firm noted that wireless communications revenue reached a record $34.8 billion in 3Q17, representing ~31% of overall semiconductor revenue.
Qualcomm (QCOM) and Broadcom (AVGO) dominate the wireless communications segment. Qualcomm's revenue rose 12% sequentially but fell 3% YoY (year-over-year) to $6.0 billion in 3Q17. Broadcom's revenue rose 9% sequentially and 17% YoY to $4.5 billion in 3Q17.
Article continues below advertisement
4Q17 and 2017 revenue forecasts
IHS Markit expects overall wireless communications revenue to rise 7.7% sequentially to $37.5 billion in 4Q17. Qualcomm expects its revenue to fall 1.7% sequentially to $5.9 billion, and Broadcom expects its revenue to rise 9.3% sequentially to $5.3 billion in 4Q17.
IHS Markit expects wireless applications revenue to cross $131 billion in 2017. This growth will likely be driven by increasing radio frequency content per Smartphone and Qualcomm's gigabit LTE (long-term evolution) modem in premium phones.
Qualcomm's licensing dispute with Apple
Looking at full year sales, Qualcomm's fiscal 2017 revenue fell 1% YoY, whereas Broadcom's fiscal 2017 revenue rose 33% YoY as it completed its acquisition of Brocade Communications.
In 2017, Qualcomm's revenue was hit by a licensing dispute with its major customer Apple (AAPL) and fines from several regulatory bodies. Apple claims that Qualcomm's licensing model of charging royalties on the selling price of end devices is unfair, as the chip supplier ends up earning royalties even on technologies it has no connection with. Qualcomm has been trying to protect its licensing model on the grounds that the connectivity patents add value to the entire phone and the contract has already been in place for a decade.
Apple has withheld $2 billion in licensing payments until the dispute is resolved. Qualcomm's licensing losses have been partially offset by strength in its chipset business, which benefited from the launch of its Snapdragon 835 processors.
The legal battle with Apple took a nasty turn, expanding into both companies' key markets. Apple expanded the battle from the United States to Europe, South Korea, and Taiwan (EWT), which saw some countries' regulators charge Qualcomm a fine for its licensing practices. In just two years, Qualcomm has lost ~$2.7 billion in fines from Asian regulators.
On the other hand, Qualcomm expanded the battle to the United States, Germany, and China (FXI), seeking a ban on the sale and manufacture of iPhones. So far, however, Qualcomm hasn't succeeded in imposing a ban. In the latest update, both Qualcomm and Apple have filed patent infringement lawsuits against each other.
Next, we'll see what Qualcomm's investors should watch for in 2018.