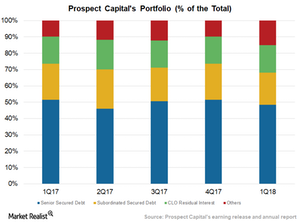 Prospect Capital Banking on Investment Pipeline for Originations
By Robert Karr

Jan. 5 2018, Updated 5:10 p.m. ET
Investment pipeline
Prospect Capital (PSEC) managed originations of $222 million, which was lower than the prior year's number. Its exits and repayments stood at $258 million. The company has seen net exits in 2017, reflecting lower originations due to its focus on reduction of risk and slippages.
Prospect Capital is focusing on new investment pipelines in order to grow its portfolio with less risk. The company is focusing on an online lending portfolio with a focus on prime, sub-prime, near prime, and small business borrowers. Retail, NPRC (National Property REIT Corp.), and online are the areas in which the company is looking to expand its portfolio.
Overall, the industry (XLF) has witnessed spread compression, lower originations amid easier liquidity, and credit availability since frontline commercial banks JPMorgan (JPM) and Bank of America (BAC) are focusing on retail lending.
Article continues below advertisement
Agented deals take the forefront
In fiscal 1Q18, Prospect Capital invested a total of $222 million. Here's how its investments break down:
agented sponsor debt: 47%
non-agented debt: 34%
online lending: 17%
structured credit: 0%
real estate: 2%
Prospect's exits in the form of repayments, sales, and scheduled amortization payments stood at $258 million in fiscal 1Q18. Its net exits totaled $35 million. As of September 30, 2017, Prospect Capital's control investments at fair value made up 34% of its total portfolio compared to 32.7% in the June quarter. Prospect's peers Ares Capital (ARCC) and BlackRock Capital (BKCC) are focusing on senior and subordinated debt.
Yields on online lending
Prospect Capital could have higher yields from online lending compared to yields on senior corporate debt. The company has also deployed investments in real estate through private REITs, focusing on multi-family stabilized yield acquisitions.