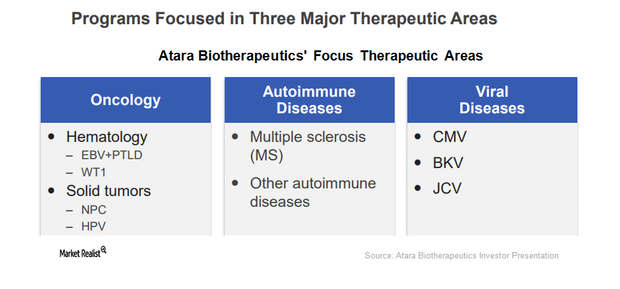 Inside Atara Biotherapeutics' Promising Product Pipeline
By Kenneth Smith

Jan. 31 2018, Updated 4:40 p.m. ET
ATRA's product pipeline
Atara Biotherapeutics (ATRA) licensed rights to T-cell drug candidates from Memorial Sloan Kettering Cancer Center in June 2015 and technology from QIMR Berghofer Medical Research Institute in September 2016.
Atara's most advanced T-cell therapy in development is its ATA129, which is under development for the treatment of cancer patients with rituximab refractory Epstein Barr virus (or EBV). The EBV virus is associated with post-transplant lymphoproliferative disorder and other EBV positive hematologic and solid tumors, including nasopharyngeal carcinoma (or NPC).
The FDA (US Food and Drug Administration) allowed Atara Biotherapeutics to begin two phase-3 clinical trials of its ATA129 in 4Q17. The company expects to begin a phase-1 and phase-2 clinical trial for the NPC indication in 2018.
Additionally, Atara also expects to submit a conditional marketing authorization (or CMA) application for its ATA129 in the European Union in 2018.
Article continues below advertisement
ATA188
Atara's ATA188 is allogenic T-cell immunotherapy for autoimmune diseases that selectively targets EBV antigens that are considered pivotal for treating multiple sclerosis. A phase-1 clinical trial of the candidate ATA190, previously known as autologous ATA188, is currently ongoing.
Additionally, a phase one ATA188 clinical trial was started in Australia in October 2017. In an extension of this study in the US, Atara received FDA clearance to begin patient enrolment in early 2018.
ATA190 and ATA50
Atara's ATA190 is an Epstein-Barr Virus (or EBV) T-cell immunotherapy for patients with progressive multiple sclerosis. The company's drug pipeline also includes its ATA50, which targets Wilms tumor-1 (or WT1), and its ATA230, which targets cytomegalovirus (or CMV).
For fiscal 2017, Atara Biotherapeutics is expected to incur R&D (research and development) expenses of $80.2 million, while peers Amgen (AMGN), Celgene (CELG), and Merck (MRK) are expected to incur R&D expenses of $3.4 billion, $2.9 billion, and $7.2 billion, respectively.
Notably, Atara Biotherapeutics makes up about 0.22% of the iShares Micro-Cap ETF's (IWC) total portfolio holdings.
In the next part of the series, we'll take a closer look Atara Biotherapeutics' product candidates ATA520 and ATA230.