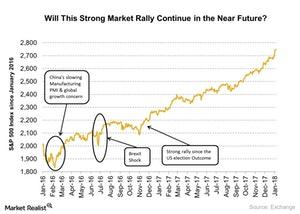 Why Pimco Thinks It's Time for Investors to Be Cautious
By Sarah Sands

Updated
Warning signs
On Thursday, January 18, 2018, Pimco, one of the world's largest asset management firms, said that it's time for investors to be cautious. The global economic adviser at Pimco, Joachim Fels, recently shared his view on the market in an interview with Bloomberg TV.
PIMCO wrote, "The fact that the fear is gone is the main reason why we should be worried. That means most investors are now pretty fully invested and that means they will want to get out if the markets (VFINX) start to correct, exacerbating the downdraft."
Article continues below advertisement
Market performance
The broader market S&P 500 Index (SPX-INDEX) (SPY), the NASDAQ Composite Index (COMP-INDEX), and the Dow Jones Industrial Average Index (DJIA-INDEX) showed strong performances in 2017. These indexes rose 19.5%, 24.8%, and 27.6%, respectively, in 2017. These major indexes have also started 2018 on positive notes and have continued to hit new highs.
These strong performances are prompting investors to put their money in the equity market. On the other hand, tax reform, expectations for more fiscal stimulus, and improving fundamentals are supporting this rally. However, according to Pimco, if the equity market shows a small correction, investors who are fully invested might panic and take their money out, which might lead to an even bigger correction.
In the next part of this series, we'll analyze Pimco's view on the global economy.